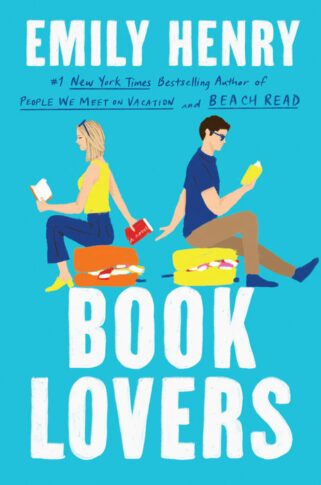 Book Lovers
By Emily Henry Source
Purchased
Published by
Berkley
on May 3, 2022
Rating:

Nora Stephens' life is books—she's read them all—and she is not that type of heroine. Not the plucky one, not the laidback dream girl, and especially not the sweetheart. In fact, the only people Nora is a heroine for are her clients, for whom she lands enormous deals as a cutthroat literary agent, and her beloved little sister Libby.

Which is why she agrees to go to Sunshine Falls, North Carolina for the month of August when Libby begs her for a sisters' trip away—with visions of a small-town transformation for Nora, who she's convinced needs to become the heroine in her own story. But instead of picnics in meadows, or run-ins with a handsome country doctor or bulging-forearmed bartender, Nora keeps bumping into Charlie Lastra, a bookish brooding editor from back in the city. It would be a meet-cute if not for the fact that they've met many times and it's never been cute.

If Nora knows she's not an ideal heroine, Charlie knows he's nobody's hero, but as they are thrown together again and again—in a series of coincidences no editor worth their salt would allow—what they discover might just unravel the carefully crafted stories they've written about themselves.
This was one of the buzziest books on my radar this year, and I feel like everyone I know in the bookish sphere read it and loved it! So I was excited but a little nervous going into this one.
I loved the first few chapters, especially the framing of Nora as the ice queen archetype from Hallmark movies. As someone who is constantly watching Hallmark holiday movies, it was fun to see that poked at.
I thought the romance was going to be an enemies-to-lovers thing but honestly Charlie and Nora never seemed like enemies to me, because the banter between them was pretty playful and flirty from the beginning. And speaking of banter, I loved it! Very fun. And I loved Charlie, because I always enjoy a grumpy love interest.
So I was very into the romance, the small-town setting, and of course I loved that the characters inhabited a world of books and reading. I loved the look at the agent and editing work. And I love that part of Nora's arc did not include changing her thoughts on children or her drive for her career.
While I initially liked the sister relationship, I actually thought it was the most annoying part of the story for me in the end. Libby was annoying, the way Nora infantilized her was annoying, and I was thisclose to throwing my book at every mention of 'Sissy' coming out of Libby's mouth to address Nora. And it's possible I missed it (because my eyes did glaze over a bit towards the end – the book felt a bit too long for me and dragged towards the end) but View Spoiler » what was the deal with Charlie's ex? I was waiting for the explanation of why she seemed into him even though he kept insisting that they didn't work out, but as I write this I can't remember what it was. « Hide Spoiler
Despite my issues with certain aspects, this was definitely a delightful read overall. If you're an Emily Henry fan you've probably already read this but if you haven't, I have no doubt that if you've enjoyed her other books you'll love this one. And if you haven't read any of her books, this would be a great place to start!