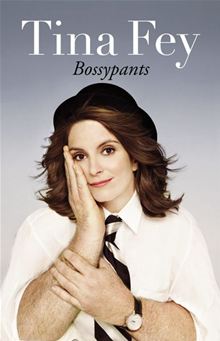 Bossypants
By Tina Fey Source
Borrowed
Published by
Reagan Arthur Books
on April 17, 2011
Rating:

In her acceptance speech for Mark Twain Prize for American Humor, Tina Fey announced that she was proud to make her home in "the 'not-real America'". It is perhaps that healthy sense of incongruity that makes the head writer, executive producer, and star of NBC's Emmy Award-winning 30 Rock such a cogent observer of the contemporary scene.

Bossypants, her entertaining new memoir, shows that strangeness has been her constant companion. Fey's stories about her childhood in Upper Darby, Pennsylvania are only appetizers for LOL forays into her college disasters, honeymoon catastrophes, and Saturday Night Live shenanigans. Most funny read of the month; the best possible weekend update.
I love Tina Fey. She wrote one of my favourite movies (Mean Girls),  I'm a big fan of 30 Rock, and I loved her on Saturday Night Live, so I knew this was a book that I wanted to read! Here is the Kobo store's summary:
I think Tina Fey is hilarious, and this book made me laugh out loud on practically every page. She discusses her childhood, her time with Second City doing improv, working on SNL, and 30 Rock.
Her anecdotes about working with Amy Poehler and Alec Baldwin cracked me up, and all the 'behind the scenes' information about working on SNL and 30 Rock were so fun to read.
She also wrote some interesting things about being a woman in the comedy/entertainment business – things I hadn't really contemplated before, but which I liked to read about. I would have liked to read more in that vein, to be honest, but this book stops short of being too serious.
Overall, this is a very funny, quick read, and if you're a fan of Tina Fey, I definitely recommend it.