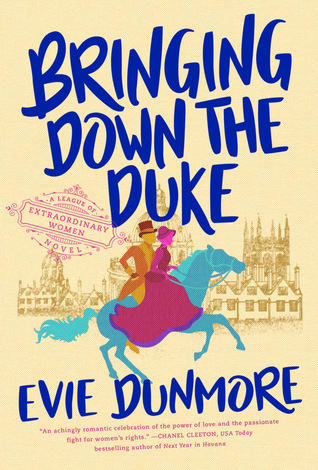 Bringing Down The Duke
By Evie Dunmore Series:
A League of Extraordinary Women #1
Source
Purchased
Published by
Berkley
on September 3, 2019
Rating:

England, 1879. Annabelle Archer, the brilliant but destitute daughter of a country vicar, has earned herself a place among the first cohort of female students at the renowned University of Oxford. In return for her scholarship, she must support the rising women's suffrage movement. Her charge: recruit men of influence to champion their cause. Her target: Sebastian Devereux, the cold and calculating Duke of Montgomery who steers Britain's politics at the Queen's command. Her challenge: not to give in to the powerful attraction she can't deny for the man who opposes everything she stands for.

Sebastian is appalled to find a suffragist squad has infiltrated his ducal home, but the real threat is his impossible feelings for green-eyed beauty Annabelle. He is looking for a wife of equal standing to secure the legacy he has worked so hard to rebuild, not an outspoken commoner who could never be his duchess. But he wouldn't be the greatest strategist of the Kingdom if he couldn't claim this alluring bluestocking without the promise of a ring...or could he?

Locked in a battle with rising passion and a will matching her own, Annabelle will learn just what it takes to topple a duke...
This was a recent book club pick that I was really looking forward to reading! I'd seen some great reviews and the plot sounded so good!
I liked this book! It was an entertaining historical romance, and Annabelle was a fun protagonist and I loved her wits and independence. I frequently enjoyed the banter between her and Sebastian. But one of the things that made this book an occasional slog for me was that it turns out that I wasn't interested in the political aspect of things, so when it came to Sebastian's parts, things dragged for me compared to the rest of the story. Also, as someone in book club mentioned, it was hard to root for a love interest who seemed like he had to be convinced that women were people and deserved the right to vote.
I am looking forward to reading the other books in this series, which follow some of the secondary characters from this book, as I quite liked Annabelle's group of friends.