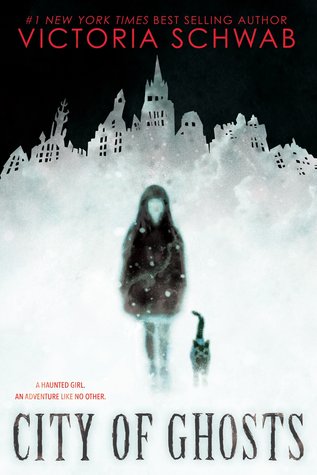 City of Ghosts
By Victoria Schwab Series:
Cassidy Blake #1
Source
Purchased
Published by
Scholastic
on August 28, 2018
Rating:

Cassidy Blake's parents are The Inspectres, a (somewhat inept) ghost-hunting team. But Cass herself can REALLY see ghosts. In fact, her best friend, Jacob, just happens to be one.

When The Inspectres head to ultra-haunted Edinburgh, Scotland, for their new TV show, Cass—and Jacob—come along. In Scotland, Cass is surrounded by ghosts, not all of them friendly. Then she meets Lara, a girl who can also see the dead. But Lara tells Cassidy that as an In-betweener, their job is to send ghosts permanently beyond the Veil. Cass isn't sure about her new mission, but she does know the sinister Red Raven haunting the city doesn't belong in her world. Cassidy's powers will draw her into an epic fight that stretches through the worlds of the living and the dead, in order to save herself.
I think I've made it clear through the years that Victoria Schwab is one of my favourite authors (probably THE favourite author). I just love every book of hers that I've read. And I'm spoiled to have so many books of hers coming out in the next few months (in addition to this book, there's Vengeful – my most anticipated book of 2018 – and The Steel Prince, volume one in the Shades of Magic comics, coming out next spring).
I pre-ordered City of Ghosts and I was s excited to read it. I flew through it because I just didn't want to put it down! I loved everything about this book: the setting (Scotland is one of the places I've always wanted to visit, and it's one of my favourite book settings); the writing; the characters; the plot; the worldbuilding; the ghosts. I mean, a ghost story set in Scotland written by my favourite author? No surprise that I adored this book!
(Also, for those wondering, this is a middle-grade book, so even though it's a little spooky and full of ghosts, it is written for a younger audience.)
This was an excellent blend of friendship, family, spookiness, and mystery. I loved City of Ghosts so much that I wanted to savour each page, but I also had to know what was happening next.
Highly recommended! I spent a delightful day curled up on the couch with this book, and it's definitely one of my favourites of the year. I read the e-book, but I really want to own a physical copy to add to my 'favourites' shelf. I can't wait to read the next book in the series!