By Elizabeth Wein
My Rating: 5 / 5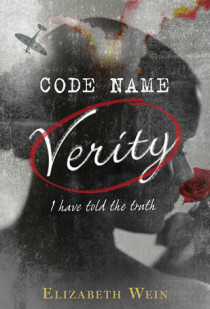 Holy cow the reviews I read for this book…I don't know how it could have taken me this much time to read this one, since I was dying to find out what it was about this story that seemed to really strike a chord with people!
Here is the Goodreads summary:
I have two weeks. You'll shoot me at the end no matter what I do.

That's what you do to enemy agents. It's what we do to enemy agents. But I look at all the dark and twisted roads ahead and cooperation is the easy way out. Possibly the only way out for a girl caught red-handed doing dirty work like mine — and I will do anything, anything, to avoid SS-Hauptsturmführer von Linden interrogating me again.

He has said that I can have as much paper as I need. All I have to do is cough up everything I can remember about the British War Effort. And I'm going to. But the story of how I came to be here starts with my friend Maddie. She is the pilot who flew me into France — an Allied Invasion of Two.

We are a sensational team.
I love historical fiction, and this story of two best friends in World War II drew me in from the first page. We learn about Queenie and Maddie, best friends who met during the war. We read as one character, captured by the Gestapo behind enemy lines, recounts her story for her captors. Beyond that, I don't really want to say anything more than that about the plot. You really should find out for yourself!
I've seen some reviews commenting on this book's slow start, and I don't totally agree with that. Or maybe I'm just not thinking of slow start the same way as they are? The book is certainly descriptive and detailed, but that helped me get into the character's mind.
I never really knew where this story was going to go, and I was constantly surprised. Some of these surprises were emotionally devastating, let me tell you. I grew so attached to Verity and Maddie, and even secondary characters that came in and out of the story.
There isn't a thing I can think of that I didn't enjoy about this book. It was unpredictable, descriptive, full of fascinating characters and heroic (and not so heroic) deeds, set during a time period that I always like to read about, and I fell in love with Verity. Despite what she was enduring, her wit, humour, and spark came through her writing in full force.
I wish I could say more but I don't want to give anything away, and I don't have many other ways to say that I loved this book! I definitely recommend this book!