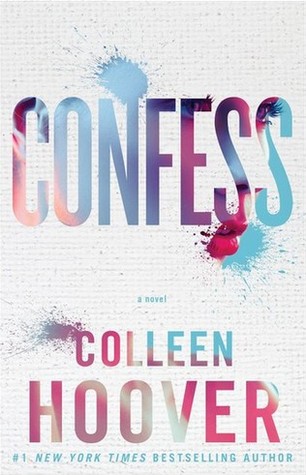 Confess
By Colleen Hoover Source
Purchased
Published by
Atria Books
on March 10, 2015
Rating:

Cover image and summary from Goodreads:

Auburn Reed has her entire life mapped out. Her goals are in sight and there's no room for mistakes. But when she walks into a Dallas art studio in search of a job, she doesn't expect to find a deep attraction to the enigmatic artist who works there, Owen Gentry.

For once, Auburn takes a risk and puts her heart in control, only to discover Owen is keeping major secrets from coming out. The magnitude of his past threatens to destroy everything important to Auburn, and the only way to get her life back on track is to cut Owen out of it.

The last thing Owen wants is to lose Auburn, but he can't seem to convince her that truth is sometimes as subjective as art. All he would have to do to save their relationship is confess. But in this case, the confession could be much more destructive than the actual sin…
I very very very rarely read anything you could call 'New Adult', or with a heavy focus on romance. That's just not my jam. But some trusted book friends love Colleen Hoover's books, and I've been trying to read outside of my usual comfort zone, so I thought if I was going to try out a New Adult title, Colleen Hoover was the author I wanted to start with.
I didn't go into this book with high hopes, so believe me when I say that I was really surprised by how much I liked Confess! I was thinking that this book would be cheesy and clichéd,and while sometimes it was, I also really liked the way Colleen Hoover addressed some of the cliché. I don't know how to properly explain it, but sometimes something would happen and I'd think about what a cliché it was, but then a character would directly address the cliché in a way that made me feel that Hoover knew what I was thinking. There was an awareness to it that I really liked. I'm still not sure that I've made any sense here but I'm trying to say that this book kind of subverted my expectations.
As for the actual romance, I liked it! Sure, there was some cheesiness, but I think the characters were well written and Auburn and Owen's stories were so interesting, I couldn't put this book down! I loved the way the chapters alternated between Owen and Auburn. It was kind of funny to see their separate perspectives on the same moments and conversations, and other times it gave me more insight into each character.
The plot took some turns that I didn't expect, so I liked being surprised and then uncertain of how things would end. ALSO! I really liked the art that was in the book! I read this as an e-book and sometimes I find that pictures, maps, images don't always format well on my e-reader. But it was really cool to see some of the paintings that were mentioned in the story.
So overall, I really liked Confess! Definitely recommended, especially if, like me, you're not much of a romance or NA reader and are looking for somewhere to start. I also have Colleen Hoover's November 9 to read, and I'm looking forward to that one! If you have any other NA suggestions, let me know!