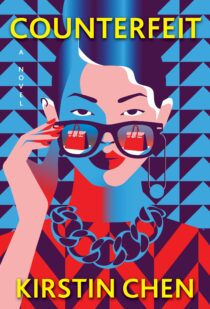 Counterfeit
By Kirstin Chen Source
Received from the publisher
Published by
William Morrow
on June 7, 2022
Received from the publisher in exchange for an honest review. This does not affect my opinion of the book or the content of my review.
Rating:

Money can't buy happiness... but it can buy a decent fake.

Ava Wong has always played it safe. As a strait-laced, rule-abiding Chinese American lawyer with a successful surgeon as a husband, a young son, and a beautiful home--she's built the perfect life. But beneath this façade, Ava's world is crumbling: her marriage is falling apart, her expensive law degree hasn't been used in years, and her toddler's tantrums are pushing her to the breaking point.

Enter Winnie Fang, Ava's enigmatic college roommate from Mainland China, who abruptly dropped out under mysterious circumstances. Now, twenty years later, Winnie is looking to reconnect with her old friend. But the shy, awkward girl Ava once knew has been replaced with a confident woman of the world, dripping in luxury goods, including a coveted Birkin in classic orange. The secret to her success? Winnie has developed an ingenious counterfeit scheme that involves importing near-exact replicas of luxury handbags and now she needs someone with a U.S. passport to help manage her business--someone who'd never be suspected of wrongdoing, someone like Ava. But when their spectacular success is threatened and Winnie vanishes once again, Ava is left to face the consequences.

Swift, surprising, and sharply comic, Counterfeit is a stylish and feminist caper with a strong point of view and an axe to grind. Peering behind the curtain of the upscale designer storefronts and the Chinese factories where luxury goods are produced, Kirstin Chen interrogates the myth of the model minority through two unforgettable women determined to demand more from life.
I was totally drawn to this book for that pretty, eye-catching cover, I admit! But then the synopsis grabbed me and I was eager to check this story out.
It took me a while to get into this, though. I think I struggled because of the framing of the bulk of the story as an interview/conversation with the police officer. It kept Ava as a character at arm's length from me and was hard for me to get invested in the story.
The story was unique, but I felt like my interest in the book was just surface-level and perhaps because of the way it was told, didn't go deeper than just wanting to know what happened in the end, plot-wise. The characters never felt developed enough for me to be emotionally involved or invested in what happened to them.
And after View Spoiler » the 'twist', it actually made it even harder to feel like Ava was a character that was fully formed, since I never felt like I was getting a look into her mindset. And I wanted to know more about Winnie than I got to. « Hide Spoiler
So this was an intriguing premise, but it didn't really work for me overall.