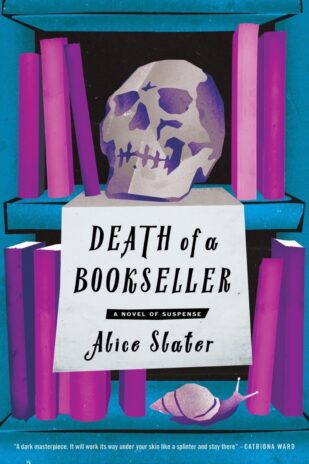 Death Of A Bookseller
By Alice Slater Source
Purchased
Published by
Scarlet
on April 25, 2023
Rating:

Roach would rather be listening to the latest episode of her favorite true crime podcast than assisting the boring and predictable customers at her local branch of the bookstore Spines, where she's worked her entire adult life. A serious true crime junkie, Roach looks down her nose at the pumpkin-spice-latte-drinking casual fans who only became interested in the genre once it got trendy. But when Laura, a pretty and charismatic children's bookseller, arrives to help rejuvenate the struggling bookstore branch, Roach recognizes in her an unexpected kindred spirit.

Despite their common interest in true crime, Laura keeps her distance from Roach, resisting the other woman's overtures of friendship. Undeterred, Roach learns everything she can about her new colleague, eventually uncovering Laura's traumatic family history. When Roach realizes that she may have come across her very own true crime story, interest swiftly blooms into a dangerous obsession.

A darkly funny suspense novel, Death of a Bookseller raises ethical questions about the fervor for true crime and how we handle stories that don't belong to us.
From the moment I read the synopsis, this book was one of my most-anticipated 2023 releases. I managed to snag a hard copy during Canadian Independent Bookstore Day, and I was so excited!
It was a fantastically dark and entertaining read that kept me guessing as to where the story was going and how Roach and Laura's intertwining stories would end.
I don't think it went as deep into its examination of true crime and what drew people like Roach to it, but I found myself unable to put this book down. Recommended!