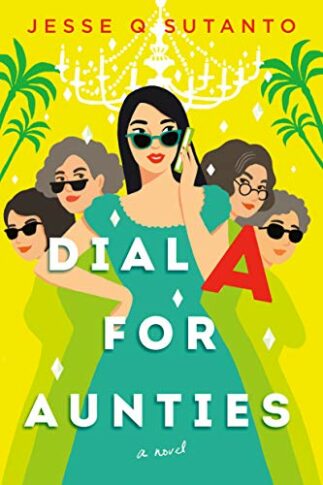 Dial A For Aunties
By Jesse Q. Sutanto Series:
Aunties #1
Source
Purchased
Published by
Berkley
on April 27, 2021
Rating:

A hilariously quirky novel that is equal parts murder mystery, rom-com, and a celebration of mothers and daughters as well as a deep dive into Chinese-Indonesian culture, by debut author Jesse Q. Sutanto.

1 (accidental) murder
2 thousand wedding guests
3 (maybe) cursed generations
4 meddling Asian aunties to the rescue!

When Meddelin Chan ends up accidentally killing her blind date, her meddlesome mother calls for her even more meddlesome aunties to help get rid of the body. Unfortunately, a dead body proves to be a lot more challenging to dispose of than one might anticipate, especially when it is accidentally shipped in a cake cooler to the over-the-top billionaire wedding Meddy, her Ma, and aunties are working, at an island resort on the California coastline. It's the biggest job yet for their family wedding business—"Don't leave your big day to chance, leave it to the Chans!"—and nothing, not even an unsavory corpse, will get in the way of her auntie's perfect buttercream cake flowers.

But things go from inconvenient to downright torturous when Meddy's great college love—and biggest heartbreak—makes a surprise appearance amid the wedding chaos. Is it possible to escape murder charges, charm her ex back into her life, and pull off a stunning wedding all in one weekend?
I was so looking forward to reading this because I'd heard such great things about it!
This book was delightful! It was so funny and I actually laughed out loud several times! And I loved the family dynamics and the different relationships between the aunties, and that Meddy has with each of them.
It isn't really a mystery, but the story also made me tense worrying about if/when they would get caught, and I was so curious to see how everything would be resolved.
Sometimes it felt like there was a lot going on, but the humour and the writing kept me from feeling like it was all too much, even when the second chance romance and wedding party hijinks were factored in. It was simply such a fun read that I was able to suspend my disbelief and just enjoy myself. And now I can't wait to read the sequel!