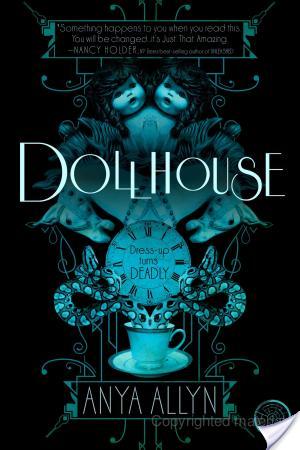 Dollhouse
By Anya Allyn Series:
Dollhouse #1
Source
Received from the publisher via Netgalley
Published by
The Studio, a Paper Lantern Lit imprint
on May 20, 2014
Received from the publisher via Netgalley in exchange for an honest review. This does not affect my opinion of the book or the content of my review.
Rating:

Cover image and summary from Goodreads:

Dress-up turns deadly. . .

When Cassie's best friend, Aisha, disappears during a school hike, Cassie sets off with Aisha's boyfriend Ethan and their best friend Lacey, determined to find her. But the mist-enshrouded mountains hold many secrets, and what the three teens discover is far more disturbing than any of them imagined: beneath a rundown mansion in the woods lies an underground cavern full of life-size toys and kidnapped girls forced to dress as dolls.

Even as Cassie desperately tries to escape the Dollhouse, she finds herself torn between her forbidden feelings for Ethan, and her intense, instinctive attraction to The Provider, a man Cassie swears she has known before…

Because Cassie's capture wasn't accidental, and the Dollhouse is more than just a prison where her deepest fears come true—it's a portal for the powers of darkness. And Cassie may be the only one who can stop it.
As a big fan of spooky paranormal YA fiction, I was interested in reading this book as soon as I heard about it. Unfortunately, it didn't live up to my hopes for a gripping, suspenseful, twisty read.
What really irked me was that it seemed like there was potentially some sort of romance developing between Cassie and The Provider  – the mysterious figure who seems to be in charge of The Dollhouse – but that seemed really out of place to me, sort of like it was there just because someone decided the book needed a hint of a love triangle.
In fact, certain elements of the book that were revealed later on seemed really far-fetched and it felt to me like so much had been crammed into this book and it didn't all work for me as a whole. Many of the twists seemed too convoluted for me to enjoy them. (Spoiler alert – skip to the next paragraph to avoid spoilers! Specifically, Sophronia's whole mission to look for a book, the historical aspect of The Provider's true identity, the strange clock galaxy thing in the big mansion, Ethan's connection to everything via his grandfather. I did enjoy the twist, though, that Lacey was in on all of it. End of spoilers)
I also didn't feel much connection or attachment to the main characters, and at times their behaviour had me shaking my head in frustration.
While the idea of the book really appeals to me, the execution left much to be desired.  However, I really had a tough time putting the book down because despite my reservations, I wanted to know what was going on and how it would end.
And speaking of endings, the ending in this book felt like a major non-ending. I was definitely disappointed with the decision to leave things as they were, but my curiosity will win out and I'm sure I'll read the next book in the series when it comes out.