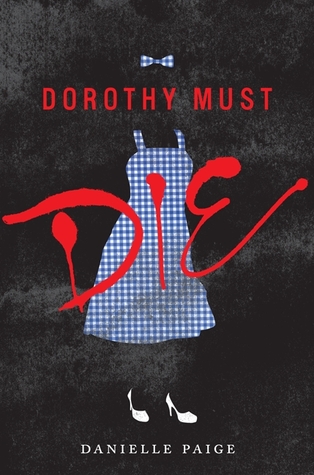 Dorothy Must Die
By Danielle Paige Series:
Dorothy Must Die #1
Source
Borrowed ARC
Published by
HarperTeen
on April 1, 2014
Rating:

Summary and cover image from Goodreads:

I didn't ask for any of this. I didn't ask to be some kind of hero.
But when your whole life gets swept up by a tornado—taking you with it—you have no choice but to go along, you know?

Sure, I've read the books. I've seen the movies. I know the song about the rainbow and the happy little blue birds. But I never expected Oz to look like this. To be a place where Good Witches can't be trusted, Wicked Witches may just be the good guys, and winged monkeys can be executed for acts of rebellion. There's still the yellow brick road, though—but even that's crumbling.

What happened?
Dorothy. They say she found a way to come back to Oz. They say she seized power and the power went to her head. And now no one is safe.

My name is Amy Gumm—and I'm the other girl from Kansas.
I've been recruited by the Revolutionary Order of the Wicked.
I've been trained to fight.
And I have a mission:
Remove the Tin Woodman's heart.
Steal the Scarecrow's brain.
Take the Lion's courage.
Then and only then—Dorothy must die!
I borrowed my friend Kathy's ARC (thank you!). I was so excited to read this book. The premise was so intriguing. I love the idea of taking a familiar story and putting an unexpected twist on it.
This story doesn't waste time getting Amy to the land of Oz, where she's greeted by the mysterious Pete. Eventually Amy finds herself on the wrong side of the Tin Man and his gruesome entourage, and locked up in the Emerald City awaiting trial. As for the rest of the plot, I'll stop there, because it was so fun to read this without any idea of where the story was going. It was wonderfully unpredictable.
Right away it's clear to the reader that this is going to be a dark story. It was darker than I expected, and I loved that! And for much of the story, Dorothy is a bit of a mysterious character, rarely seen by Amy but she certainly gleans a lot of information from the way others talk about her. I was fascinated, trying to think of what could possibly of happened to the sweet, friendly Dorothy we all know from The Wizard of Oz (I should note here that I have never read the Oz books, but I did watch the movie a lot when I was young).
There are the makings of a love triangle here, but one of the wonderful things that Danielle Paige does in this book is turn my idea of where that was going completely on its head. As I said, this book was unpredictable!
The characters I expected are all present in this book: the Tin Man, the Lion, the Scarecrow, the Wizard, Glinda, and of course Dorothy. And I loved seeing how they had been somehow twisted from the movie versions I was familiar with into darker, twisted, menacing figures. Seriously, so much darker than I thought the book would be (which is a good thing in my opinion!).
Slight spoilers – skip this paragraph if you don't want to know! The ending left me with a few questions (how did Amy get to Oz; what are the Wizard's motives and alliance; seriously, what happened to Dorothy) but I guess I just have to wait for the next book for answers. End of spoilers.
I've already pre-ordered a finished copy and can't wait to put it on my bookshelf. This will be a lot of fun to re-read and now I'm desperately waiting on the sequel! This book is a must-read!