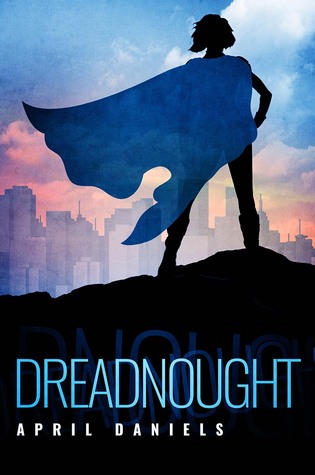 Dreadnought
By April Daniels Series:
Nemesis #1
Source
Purchased
Published by
Diversion Publishing
on January 24, 2017
Rating:

Until Dreadnought fell out of the sky and died right in front of her, Danny was trying to keep people from finding out she's transgender. But before he expired, Dreadnought passed his mantle to her, and those secondhand superpowers transformed Danny's body into what she's always thought it should be. Now there's no hiding that she's a girl.

It should be the happiest time of her life, but Danny's first weeks finally living in a body that fits her are more difficult and complicated than she could have imagined. Between her father's dangerous obsession with "curing" her girlhood, her best friend suddenly acting like he's entitled to date her, and her fellow superheroes arguing over her place in their ranks, Danny feels like she's in over her head.

She doesn't have much time to adjust. Dreadnought's murderer—a cyborg named Utopia—still haunts the streets of New Port City, threatening destruction. If Danny can't sort through the confusion of coming out, master her powers, and stop Utopia in time, humanity faces extinction.
I'd been wanting to read this book for a while, and it felt like just the right book to pick up after I'd finished a gritty book.
I really liked Dreadnought. The superhero stuff was really fun, and I was very interested in the different superhero factions.
Danny has always known that she's a girl, but it isn't until she receives the superhero powers of Dreadnought that her outward appearance matches how she feels on the inside. After Danny's transition, she is faced with the negative reactions of her best friend and parents. Danny faces so much hate and transphobia and my heart went out to her. And on top of that, she is trying to figure out her new super powers, figure out where she stands with the other capes, and decide if she actually wants to take on the Dreadnought mantle.
Thankfully, Danny makes a new friend who accepts her for who she is, and helps explain some of the super powered life to her.
The action scenes were fun to read, although the final showdown didn't totally work for me and was confusing. Also, some of the characters felt underdeveloped and flat to me. For example, Danny's best friend David: when their friendship ended, I knew it was a difficult thing for Danny to lose a friend, but I didn't actually feel anything about it because I didn't have a real sense of David as a character or his friendship with Danny.
Overall, this was a very good book, and I'm definitely looking forward to reading the sequel!