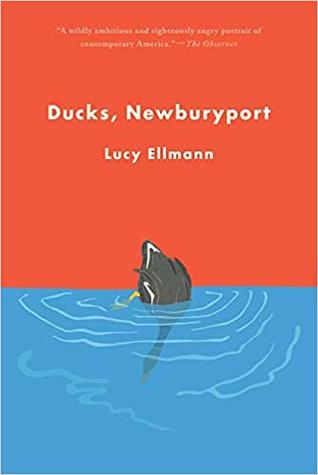 Ducks, Newburyport
By Lucy Ellmann Source
Purchased
Published by
Biblioasis
on August 20, 2019
Rating:

LATTICING one cherry pie after another, an Ohio housewife tries to bridge the gaps between reality and the torrent of meaningless info that is the United States of America. She worries about her children, her dead parents, African elephants, the bedroom rituals of "happy couples", Weapons of Mass Destruction, and how to hatch an abandoned wood pigeon egg. Is there some trick to surviving survivalists? School shootings? Medical debts? Franks 'n' beans?

A scorching indictment of America's barbarity, past and present, and a lament for the way we are sleepwalking into environmental disaster, Ducks, Newburyport is a heresy, a wonder—and a revolution in the novel.

It's also very, very funny.
Finishing this was a feat. I was determined to finish it, no matter how long it took me. I was so intrigued when I first heard of it, but I need to admit that its format, which was interesting and certainly different from anything else I can remember reading before, was a bit of a barrier for me. It just isn't easy for me to read a book that is basically one giant run-on sentence, with no paragraphs or anything. It was hard to find a comfortable stopping point while reading, so after a while I just put it down and didn't pick it back up, for months.
It certainly took a while for me to see where the main narrative was going, but once I did, my interest picked up and I read the last 30-ish% much quicker than I read the first part of the book. I am glad that I finished it and I appreciate its ambition, and I did have moments where I quite enjoyed it, but I also really struggled to read it at times.