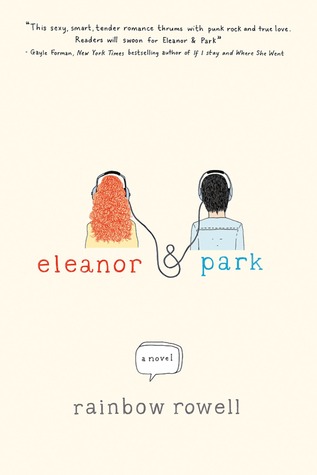 Eleanor and Park
By Rainbow Rowell Source
Purchased
Published by
St. Martin's Griffin
on February 26, 2013
Rating:

Cover image and summary from Goodreads:

Two misfits.
One extraordinary love.

Eleanor... Red hair, wrong clothes. Standing behind him until he turns his head. Lying beside him until he wakes up. Making everyone else seem drabber and flatter and never good enough...Eleanor.

Park... He knows she'll love a song before he plays it for her. He laughs at her jokes before she ever gets to the punch line. There's a place on his chest, just below his throat, that makes her want to keep promises...Park.

Set over the course of one school year, this is the story of two star-crossed sixteen-year-olds—smart enough to know that first love almost never lasts, but brave and desperate enough to try.
I've had this book on my shelf for quite some time and knew I really wanted to read it, but the time never seemed quite right. Then it was selected as my book club's September pick, so I knew I had to read it no matter what!
Yes I'm putting this book as historical fiction. It's set in the 1980s, which was 30+ years ago…it doesn't feel read to tag it as contemporary, and the music and style of the 1980s plays a big part in the story, so it felt right to put this down as historical fiction.
I don't even know where to begin writing a review of this book. It was the sort of book where I told myself I'd stop reading after this chapter, and then kept reading and reading and reading…Eleanor and Park's story is beautiful and sad and funny. I simply could not put the book down.
I'd heard so many great things about this book and read so many gushing reviews that I figured there was just no way this book could live up to my expectations. But you know what? It totally did. This book was as good as everyone told me it was.
I think this book has given me a bit of a book hangover. I read the last page, closed the book, and just sat there and sighed. This book hurt my heart. The romance is not cheesy or saccharine. The characters feel real. Everything was just right.
If you haven't read this one yet, you really should! Having now read two of Rainbow Rowell's books (this and Fangirl), I can safely say she's on my must-buy list.