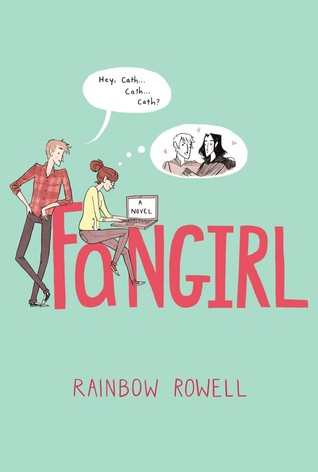 Fangirl
By Rainbow Rowell Source
Purchased
Published by
St. Martin's Griffin
on September 10, 2013
Rating:

In Rainbow Rowell's Fangirl, Cath is a Simon Snow fan. Okay, the whole world is a Simon Snow fan, but for Cath, being a fan is her life-and she's really good at it. She and her twin sister, Wren, ensconced themselves in the Simon Snow series when they were just kids; it's what got them through their mother leaving.

Reading. Rereading. Hanging out in Simon Snow forums, writing Simon Snow fan fiction, dressing up like the characters for every movie premiere.

Cath's sister has mostly grown away from fandom, but Cath can't let go. She doesn't want to.
Now that they're going to college, Wren has told Cath she doesn't want to be roommates. Cath is on her own, completely outside of her comfort zone. She's got a surly roommate with a charming, always-around boyfriend, a fiction-writing professor who thinks fan fiction is the end of the civilized world, a handsome classmate who only wants to talk about words . . . And she can't stop worrying about her dad, who's loving and fragile and has never really been alone.

For Cath, the question is: Can she do this? Can she make it without Wren holding her hand? Is she ready to start living her own life? And does she even want to move on if it means leaving Simon Snow behind?
I had this book preordered as soon as I heard about it! I haven't read many books taking place during the college/university years, and I've really enjoyed the ones I have read, so knowing that this book takes place during Cath's first year of college certainly had me interested. Plus I love that cover!
I loved reading about Cath's college experience. It reminded me of my own in so many ways! From being shy and anxious about new people, a roommate she doesn't know, finding her way around campus, etc., it all seemed so real.
Cath and Wren have been Simon Snow (think Harry Potter) fans for a long time, even writing fanfiction together. I loved that aspect of the story, because I'm a total fangirl for the shows and books that I love. One of the things that I love about the internet is that it's so easy to find other fans and connect about the things you love, no matter how big or small the fandom may be. I've never read fanfiction, and to be honest I'm not at all interested in it, but it's a huge part of Cath's life. Writing as Magicath, she has a ton of followers, reading her fanfiction Carry On, which she's been working on for nearly two years. Cath is determined to finish it before the eighth and final book in the Simon Snow series comes out, but how will she have time to work on that, while she's also starting college and attending classes, meeting new people, and doing homework?
Well, she kind of doesn't. Cath goes to class and works on her assignments, but she spends most of her time working on Carry On. (I loved reading the excerpts of both the Simon Snow books and the fanfiction throughout the book!) Eventually, her roommate Reagan takes Cath under her wing and at least gets her to eat in the cafeteria. But she can't get Cath to go out and socialize. And I have to say, while I initially thought Reagan was overbearing and mean to Cath, I really grew to love her. Cath is Cath, Reagan is Reagan, and they have a strange friendship that totally works. I loved it.
I also really liked Levi, Reagan's sort of ex boyfriend who was always hanging around. He was nice, funny, and sweet.
You would think that going to college with your twin sister would mean having a built-in friend, but Wren didn't want to be Cath's roommate, and seemed to be doing just fine without Cath, hanging out with her roommate Courtney, going to parties and bars together, sharing inside jokes that Cath didn't understand…I was actually frustrated with Wren for much of the book, because I felt that she had abandoned Cath. Not only did Wren not want to live with Cath, she didn't seem interested in Simon Snow and Cath's story anymore. That in itself is fine, of course – our tastes change, and what we like when we're younger isn't always what we like when we're older – but I began to feel that she was making fun of Cath because of her Simon Snow fandom, and that didn't sit well with me.
However, as we learn eventually, Wren is going through her own stuff, having her own college experience, and while it isn't the same experience as Cath's, it's no easier. I liked this aspect of the story because Cath was so cocooned in her own world that it was easy to forget at times that there were other characters with their own lives outside of their interactions with Cath, and learning that Wren had her own struggles that Cath wasn't even aware of showed how far they had drifted from each other.
I really enjoyed this book. Tt had a nice, leisurely pace to it and I found myself reading bits and pieces at a time, not quite wanting to race through it because it was so fun to read that I didn't want to finish it too quickly.
I related to and identified with Cath in a lot of ways, but I also wanted her to make more of an effort to get to know people – especially Levi! Cath came across as very stand-offish and I know that she wasn't cold or rude – she said herself that she had major problems trusting people, because of the way her mom had left them when she and Wren were young – but it was a little tricky for me to believe that Levi kept doing amazingly nice things like meeting her after class to walk her back to her room in the dark, when she seemed so uninterested in him.
However, once Cath acknowledged her feelings for Levi, I really liked the way things unfolded between the two of them. And there is a lot of other stuff going on in this book that I haven't even covered yet – Cath's long-gone mother trying to come back into her and Wren's lives; their father's health issues; Cath's writing class – phew! There was so much going on here and I liked reading about all of it.
I don't think my review has done this book justice, but I totally recommend it. It was funny, sweet, and I loved the characters. I can't believe this is the first of Rainbow Rowell's books that I've read! I am definitely going to track down her other books!