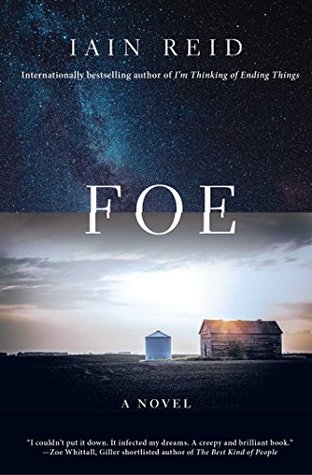 Foe
By Iain Reid Source
Purchased
Published by
Gallery/Scout Press
on August 7, 2018
Rating:

In Iain Reid's second haunting, philosophical puzzle of a novel, set in the near-future, Junior and Henrietta live a comfortable, solitary life on their farm, far from the city lights, but in close quarters with each other. One day, a stranger from the city arrives with alarming news: Junior has been randomly selected to travel far away from the farm...very far away. The most unusual part? Arrangements have already been made so that when he leaves, Henrietta won't have a chance to miss him, because she won't be left alone—not even for a moment. Henrietta will have company. Familiar company.

Told in Reid's sharp and evocative style, Foe examines the nature of domestic relationships, self-determination, and what it means to be (or not to be) a person. An eerily entrancing page-turner, it churns with unease and suspense from the first words to its shocking finale. (
I read Iain Reid's I'm Thinking of Ending Things a couple of years ago, and it was a very challenging book for me, but one that I came to like the more I thought about it. So when I learned that he had a second novel coming out this year, I pre-ordered right away!
Like I'm Thinking of Ending Things, this book had a persistent sense of something being not quite right. It didn't have the same sense of dread or unease for me as ITOET, but I definitely had the feeling that something was off.
Unfortunately, I think the marketing of the book gives away what is supposed to be a surprise or twist, so I predicted it right from the start. Because of that, for me this book lacked the punch that ITOET had. View Spoiler » The narrator Junior being the replacement was something I spotted right away, but I did like the extra surprise twist at the end that Hen ended up doing something similar. And the way Iain Reid used quotation marks to signify when a 'replacement' was speaking was not something I picked up on until the very end. « Hide Spoiler
The book presents some very interesting ideas, and I liked that it's set in the near future so it has a slight sci-fi feel but still feels so much like our present time period. And like ITOET, the more I've thought about this book since I finished, the more I like it.
I read the book in about a day and a half, not wanting to put it down. The short chapters and prosaic language helped make it a very quick read, and I think it would be a really interesting one to discuss with other readers. I don't think I like this better than ITOET, but I will definitely be reading Iain Reid's next novel!