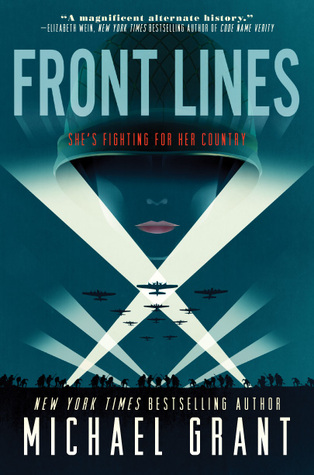 Front Lines
By Michael Grant Series:
Front Lines #1
Source
Received from the publisher
Published by
Katherine Tegen Books
on January 26, 2016
Received from the publisher in exchange for an honest review. This does not affect my opinion of the book or the content of my review.
Rating:

Cover image and summary from Goodreads:

Perfect for fans of The Book Thief and Code Name Verity, New York Times bestselling author Michael Grant unleashes an epic, genre-bending, and transformative new series that reimagines World War II with girl soldiers fighting on the front lines.

World War II, 1942. A court decision makes women subject to the draft and eligible for service. The unproven American army is going up against the greatest fighting force ever assembled, the armed forces of Nazi Germany.

Three girls sign up to fight. Rio Richlin, Frangie Marr, and Rainy Schulterman are average girls, girls with dreams and aspirations, at the start of their lives, at the start of their loves. Each has her own reasons for volunteering: Rio fights to honor her sister; Frangie needs money for her family; Rainy wants to kill Germans. For the first time they leave behind their homes and families—to go to war.

These three daring young women will play their parts in the war to defeat evil and save the human race. As the fate of the world hangs in the balance, they will discover the roles that define them on the front lines. They will fight the greatest war the world has ever known.
From the moment I heard about Front Lines, I was beyond excited to read this book. I'm fascinated by alternate histories, and something about the idea of women being eligible for the draft and serving alongside men in World War II was irresistible to me. I don't think I read many stories dealing with war – or if I do, the only ones that come to mind right now are fantasy books with battle scenes featuring magic alongside weapons, so not quite the same thing – but I was drawn to this book.
I love this book. Love love love. I was pulled into the three main characters' stories right away – Rio, Frangie, and Rainy – and I cared so much about these girls. Their families, the people they meet in training, and their fellow soldiers were all part of their stories, and I was completely entranced as the three girls' stories came together. And when it came time to fight, the story didn't shy away from the horrors of war. It was gripping and had me on the edge of my seat, totally unable to put the book down.
And the glimpses into the mysterious narrator's identity made that a fascinating subplot, adding a bit of mystery to the book, which I loved.
Grant's characters encounter sexism, racism, and anti-Semitism. The book is an alternate history but still historical fiction, and doesn't shy away from the ugliness of the past.
From the characters to the story to the writing, I loved this book, start to finish. It was a big book (my physical ARC was 542 pages) but it didn't feel like it while I was reading it! And I am beyond thrilled that this is the first book in a series, because I need to read book two!
I am not intentionally stingy with my five star ratings, but they're usually rare for me to give out. But Front Lines is absolutely a five star read for me because it took me out of my world and put me in Rio, Frangie, and Rainy's worlds. It captivated me and had me excited and happy and scared right alongside them. I definitely shed a tear or two while reading this, which is another rarity for me.
Also! I really like this cover. I am definitely buying a finished copy for my shelf, and may end up gifting this book to people for birthdays and holidays. This is definitely the best book I've read so far in 2016 (yes I know, it's only January), and I haven't been able to stop thinking about it since I finished. Highly highly recommended.
Find out more on the publisher's website!
Buy a copy for yourself: