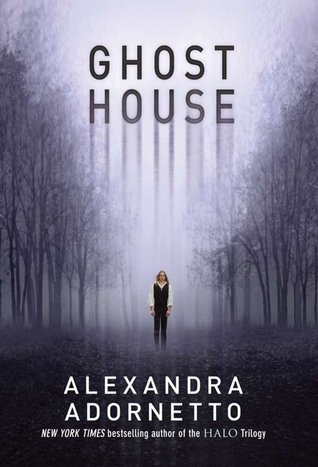 Ghost House
By Alexandra Adornetto Series:
Ghost House Saga #1
Source
Received from the publisher
Published by
Harlequin Teen
on August 26, 2014
Received from the publisher in exchange for an honest review. This does not affect my opinion of the book or the content of my review.
Rating:

Cover image and summary from Goodreads:

From the New York Times bestselling author of Halo comes the start of a beautiful and powerful new series.

After the loss of her mother, Chloe Kennedy starts seeing the ghosts that haunted her as a young girl again. Spending time at her grandmother's country estate in the south of England is her chance to get away from her grief and the spirits that haunt her. Until she meets a mysterious stranger…

Alexander Reade is 157 years dead, with secrets darker than the lake surrounding Grange Hall and a lifelike presence that draws Chloe more strongly than any ghost before. But the bond between them awakens the vengeful spirit of Alexander's past love, Isobel. And she will stop at nothing to destroy anyone who threatens to take him from her.

To stop Isobel, Chloe must push her developing abilities to their most dangerous limits, even if it means losing Alex forever… and giving the hungry dead a chance to claim her for their own.
I love paranormal/supernatural stories, particularly ghost stories, so when I heard about Ghost House, I was definitely excited to read it. I was really hoping to get a copy while at BEA but sadly, I could not, so I was thrilled to receive an ARC in the mail.
I tried not to look at reviews before I read, but I did notice several one and two star reviews on Goodreads when I was adding the book to my 'Currently reading' shelf. Many of those made note of author Alexandra Adornetto's previous series, Halo, and were quite negative about it! I've never read that series, so I went into this without any previous experience with Adornetto's writing. I'll admit, it's not mind-blowingly, amazingly written, but so what? I loved the story and I loved the characters, which meant I could easily overlook some of the overwrought descriptions and clunky writing (which is not always the case – I really struggled, for example, with the purple prose in Shatter Me, but I know lots of people who adore that series and the author's writing, so to each his/her own).
I can't deny that I'm a sucker for ghost stories, so I went in wanting to love this book, and I did. I felt for Chloe right away, as the story begins right after her mother has died. Because her father is struggling to keep things together, he and Chloe's grandmother decide that Chloe and her younger brother will spend time with their grandmother in England. And of course she lives in a large old house – more like an estate – which she runs as a bed and breakfast. The change in scenery from L.A. to the English countryside helped create just the right atmosphere for a story about a haunted house!
Chloe has seen ghosts since she was young, but she was able to keep the sightings at bay for years. While staying with her grandmother, perhaps in her state of grief, she was no longer able to fend off the ghosts and began to see them again. However, it's not until she meets Alex, the first ghost she's been able to speak with, that things start to get dangerous. There's another ghost on her grandmother's property, a threatening and dangerous spirit named Isobel, and she seems out to get Chloe.
There's definitely some romance between Chloe and Alex, which I know sounds strange because he's a ghost, but for some reason I really enjoyed it, even though their feelings seem to progress really quickly. Maybe that's what happens when your feelings for each other can transcend the boundaries of life and death! I think if you don't care much for the romance, you might not love this book as much as I did, because it's a big aspect of the story.
I also really liked the characters. Both Chloe and Alex were a bit fish-out-of-water: Chloe, as an American teenager in the English countryside, and Alex, who's been dead for 150 years and now finds that he can communicate with someone living in the 21st century who behaves, dresses, and speaks quite differently than people did in his day. It helped lend some humour to the story, which I appreciated.
I also liked Rory (Chloe's younger brother), her grandmother, and Joe. Joe helps out around the property, particularly with the horses, and he and Chloe strike up a friendship. I was really worried that a love triangle would develop, but I think that, while Joe had feelings for Chloe, she didn't care for him in the same way. She definitely liked him as a friend, but it didn't seem to me that she had romantic feelings for him.
I also got a kick out of Mavis and May, paranormal investigator sisters staying at the bed and breakfast. As Isobel becomes more dangerous, Mavis and May become more involved in the story, and I liked the role they played.
One of my favourite things about Ghost House was that Chloe somehow saw into Alex and Isobel's past at times, which revealed a lot about their characters. Even though Isobel had become menacing and dangerous, these scenes helped me to see who she had been in life and even to sympathize with her somewhat. It also revealed how she and Alex died, and the tragedy that was connected to their story.
The summary says that this is the first in a series, and thank goodness because THAT ENDING! I was flailing and desperately wanting book two as soon as I finished reading!
So overall, despite a bit of cheesiness with the writing and the romance, I loved this book. The ghost story, the romance between Chloe and Alex, and the flashbacks to Alex and Isobel's lives had me devouring this book as quickly as possible. I can't wait to read the next book!!