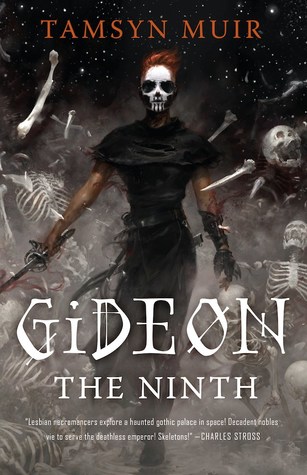 Gideon the Ninth
By Tamsyn Muir Series:
The Locked Tomb #1
Source
Purchased
Published by
Tor
on September 10, 2019
Rating:

The Emperor needs necromancers.

The Ninth Necromancer needs a swordswoman.

Gideon has a sword, some dirty magazines, and no more time for undead bullshit.

Tamsyn Muir's Gideon the Ninth unveils a solar system of swordplay, cut-throat politics, and lesbian necromancers. Her characters leap off the page, as skillfully animated as necromantic skeletons. The result is a heart-pounding epic science fantasy.

Brought up by unfriendly, ossifying nuns, ancient retainers, and countless skeletons, Gideon is ready to abandon a life of servitude and an afterlife as a reanimated corpse. She packs up her sword, her shoes, and her dirty magazines, and prepares to launch her daring escape. But her childhood nemesis won't set her free without a service.

Harrowhark Nonagesimus, Reverend Daughter of the Ninth House and bone witch extraordinaire, has been summoned into action. The Emperor has invited the heirs to each of his loyal Houses to a deadly trial of wits and skill. If Harrowhark succeeds she will become an immortal, all-powerful servant of the Resurrection, but no necromancer can ascend without their cavalier. Without Gideon's sword, Harrow will fail, and the Ninth House will die.

Of course, some things are better left dead.
This is probably my favourite book of the year so far. How could it not be, with some my favourite bookish things: necromancy, skeletons, and sword-fighting!
It took me around 50 pages to wrap my head around this world and really get into it, and then to keep all of the characters straight. But once I did, I absolutely loved it! This was such an inventive world to read about and I just wanted to know more!
I loved the magic and the different specialties of the various houses. And as the story went on and the competition between the Houses got more and more dangerous, I was drawn further into the story. I didn't want to put the book down!
I loved Gideon. She was snarky and strong but also vulnerable, and her relationship with Harrowhark was fascinating. Speaking of Harrowhark, she wound up being my favourite character. I just really loved reading about these two and their dynamic!
There were some absolutely awesome battle scenes, and some of the scenes from the competition were so cool. As wild and imaginative as those scenes were, I felt like I could picture them so vividly, and I had so much fun reading.
This was a fun, exciting, funny story, set in a fascinating world with characters who captured my heart. And skeletons! And so many necromancers! I absolutely loved this book. And now the long wait for book two begins!