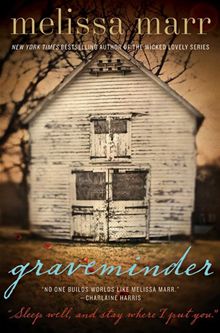 Graveminder
By Melissa Marr Source
Purchased
Published by
HarperCollins
on May 9, 2011
Rating:

Rebekkah Barrow never forgot the tender attention her grandmother, Maylene, bestowed upon the dead of Claysville. While growing up, Rebekkah watched as Maylene performed the same unusual ritual at every funeral: three sips from a small silver flask followed by the words, "Sleep well, and stay where I put you."

Now Maylene is gone and Bek must return to the hometown—and the man—she abandoned a decade ago, only to discover that Maylene's death was not natural . . . and there was good reason for her odd traditions. In Claysville, the worlds of the living and the dead are dangerously connected—and beneath the town lies a shadowy, lawless land ruled by the enigmatic Charles, aka Mr. D. From this dark place the deceased will return if their graves are not properly minded. And only the Graveminder, a Barrow woman, and the current Undertaker, Byron, can set things to right once the dead begin to walk.
I have had Melissa Marr's young adult series, Wicked Lovely, on my TBR list for a very long time. Now that I've read this, I am definitely going to read her other books asap!
I love stories about the supernatural and as soon as I read the summary, I knew I had to read this book. The story was unlike any other I've read, and unpredictable (which is good).
Rebekkah has not been to the town of Claysville in years. She lived there for a time with her sister Ella and their grandmother, Maylene. When they were younger, Rebekkah, Ella, and Ella's boyfriend, Byron, were close friends. After Ella died, things changed and eventually Rebekkah and her mother left town.
Eventually, Rebekkah makes her way back to Claysville when she receives news of her grandmother's death. She is greeted at the airport by Byron, with whom she has had a very complicated relationship. He reveals that her grandmother was murdered, and this sets off a chain of events leading to Rebekkah's discovery of the task of the Graveminder and the Land of the Dead, which she can only enter when accompanied by the Undertaker – Byron.
The story takes its time revealing the tasks of the Graveminder and Undertaker roles, and the town's mysteries. I was very pleased with the way it was all revealed, because it kept me wanting to read. I do wish that the author had told us even more about the town's past, but I don't necessarily see that as a bad thing. I felt that everything was explained, and I just enjoyed the explanation/history so much that I wanted more of it. Does that make sense?
Rebekkah and Byron's relationship was interesting. They definitely had a past, and I won't give anything away there, but her stubbornness and refusal to get involved with a guy who loved her and for whom she obviously had feelings did become a bit tiresome. However, this is another one of those things that, in the end, had an explanation that I believed and looking back, Rebekkah's actions make sense to me.
I liked the way the story jumped to different characters – it gave a deeper understanding of events and motives. It also demonstrated that some characters knew more than they let on about the dead!
I can't say enough about how much I enjoyed the story. I really loved the idea of a Graveminder – someone who needs to watch over the dead and their gravesites, speak to them, etc. The walking dead are not zombies or vampires – they seemed to me like ghosts, but they are dangerous. It was such an interesting idea. I would love to read more on this but I don't believe it is going to be a series. I've read a lot of zombie/vampire/post-apocalyptic/dystopian stuff lately, but this was so different from all of those other books – it was something new and original for me and I loved it.
This book was awesome. I liked the characters, and in addition to the excellent supernatural plot, there was suspense, romance, and mystery. I am definitely recommending it!