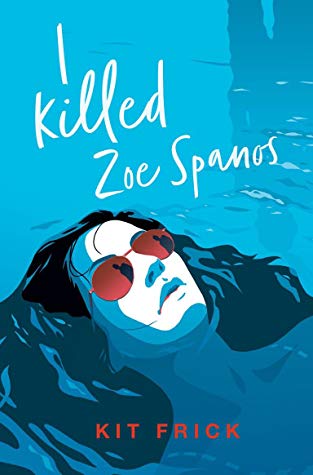 I Killed Zoe Spanos
By Kit Frick Source
Received from the publisher
Published by
Margaret K. McElderry Books
on June 30, 2020
Received from the publisher in exchange for an honest review. This does not affect my opinion of the book or the content of my review.
Rating:

For fans of Sadie and Serial, this gripping thriller follows two teens whose lives become inextricably linked when one confesses to murder and the other becomes determined to uncover the real truth no matter the cost.

What happened to Zoe won't stay buried…

When Anna Cicconi arrives to the small Hamptons village of Herron Mills for a summer nanny gig, she has high hopes for a fresh start. What she finds instead is a community on edge after the disappearance of Zoe Spanos, a local girl who has been missing since New Year's Eve. Anna bears an eerie resemblance to Zoe, and her mere presence in town stirs up still-raw feelings about the unsolved case. As Anna delves deeper into the mystery, stepping further and further into Zoe's life, she becomes increasingly convinced that she and Zoe are connected—and that she knows what happened to her.

Two months later, Zoe's body is found in a nearby lake, and Anna is charged with manslaughter. But Anna's confession is riddled with holes, and Martina Green, teen host of the Missing Zoe podcast, isn't satisfied. Did Anna really kill Zoe? And if not, can Martina's podcast uncover the truth?

Inspired by Daphne du Maurier's Rebecca, Kit Frick weaves a thrilling story of psychological suspense that twists and turns until the final page.
I am a sucker for a YA mystery/thriller, and as soon as I read this synopsis, I added it to my TBR. I was really excited to receive an e-ARC from the publisher!
The synopsis references Sadie by Courtney Summers (which I loved), and I think that's an apt comparison, although the podcast aspect is not as prominent in this book. But I think fans of Sadie will like I Killed Zoe Spanos.
I enjoyed the way the story moved back and forth in time. It was a bit disorienting at first but was an effective way to tell Anna's story.
This book was full of surprises and twists and turns, and every time I thought I had it sorted out, the author was several steps ahead of me and anticipated all of my guesses. I got sucked into this book right away and finished it in two days. This is definitely a recommended read for YA mystery readers!