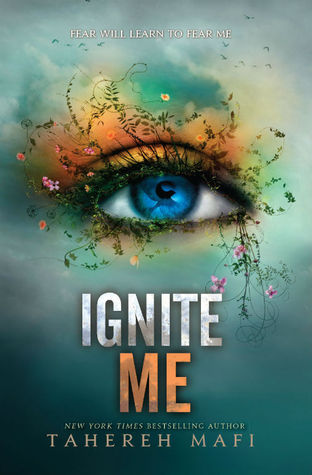 Ignite Me
By Tahereh Mafi Series:
Shatter Me #3
Source
Purchased
Published by
Harper Collins
on February 4, 2014
Rating:

Summary and cover image from Goodreads:

The heart-stopping conclusion to the New York Times bestselling Shatter Me series, which Ransom Riggs, bestselling author of Miss Peregrine's Home for Peculiar Children, called "a thrilling, high-stakes saga of self-discovery and forbidden love"

Juliette now knows she may be the only one who can stop the Reestablishment. But to take them down, she'll need the help of the one person she never thought she could trust: Warner. And as they work together, Juliette will discover that everything she thought she knew-about Warner, her abilities, and even Adam-was wrong.

In Shatter Me, Tahereh Mafi created a captivating and original story that combined the best of dystopian and paranormal and was praised by Publishers Weekly as "a gripping read from an author who's not afraid to take risks." The sequel, Unravel Me, blew readers away with heart-racing twists and turns, and New York Times bestselling author Kami Garcia said it was "dangerous, sexy, romantic, and intense." Now this final book brings the series to a shocking and climactic end.
Spoilers for Shatter Me, Unravel Me, and Ignite Me!
This is a book that I'd been looking forward to reading for some time. I've enjoyed these books, but the series has never been a favourite of mine. However, as the blogging world's anticipation for this book grew, I found that my own excitement started to build. I think that people were so invested in the Warner vs Adam thing that made the build-up to this book's release very intense.
After Shatter Me, I was happy that there had been no love triangle and that Juliette and Adam had a history with each other. I thought it was refreshing. Then after Unravel Me, I was disappointed that Warner had become a romantic interest and Adam had become such a wet blanket.
Going into this book, I didn't really want Juliette to end up with either Adam or Warner. Adam was whiny and angsty,  and Warner was a villain. I've talked before about turning villains into love interests and I don't feel like getting into it again here. I'll just say that I appreciate when an author makes the villain interesting, but that I don't often like it when the villain becomes a love interest.
So my feelings going into the book were that I was very curious – I figured Juliette would end up choosing one of the two love interests and I knew there were a lot of readers out there who were pretty heavily Team Warner, so I wanted to know how Tahereh Mafi would end this series.
I didn't love the other books in this series, partly because I found the writing a tad overwhelming, but I thought that this was the best-written book in the series. I also loved Kenji, as I did in previous books. Further, it was really cool to see how far Juliette had come and that she was turning into such a strong, assertive person, ready to be in control. She's no longer frail and passive.
But what people will be (or already are) talking about is the romance. Who does Juliette end up with – Warner or Adam? My honest hope was that she ended up with neither. I have never liked Warner as a romantic interest, and by the end of Unravel Me, Adam had become mopy and whiny and seemed to have no personality.
The author wastes no time explaining away all the things that had made Warner such a villain previously. For every awful act he had committed, there was a quite convenient explanation. I have some strong not very nice feelings about it all, but I just don't want to get myself all worked up about it since I think we could all see where this love triangle was headed long before this book came out.
While I appreciated that Juliette could look back at the person she had been when she loved Adam and recognize that she was not that girl anymore, and that her feelings for him had changed, I really didn't like that Adam turned into a major asshole in this book – especially since a lot of the things he was saying to Juliette were things I was thinking (like the fact that Warner tried to kill Adam!).
One of the parts that really bothered me was that in the end, when Warner learns that he, Adam, and James are brothers, Warner walks away from Juliette to talk to Adam. The reader is not privy to that conversation, and when Warner comes back to Juliette she doesn't find out what they talked about. But Warner reveals that they are going to start spending some time together. This struck me as a really convenient way to resolve a murderous hatred between two characters so that everything is happily wrapped up at the end of the book. I think of all the things that had me rolling my eyes and shaking my head, that part was the worst.
The ending felt super rushed. So much time was spent on sexy times with Warner and arguing with Adam and then the whole taking down the evil overlord aspect was finished so suddenly that I thought I'd somehow skipped a bunch of pages.
So. I'm glad I read the series, because it was entertaining, well-written, and the discussions I've had with fellow readers and bloggers about these books have always been incredibly entertaining! I'm pleased to have finished one of the many series I've started, and I can't wait to go back and read other reviews of this book, now that I've finished it!