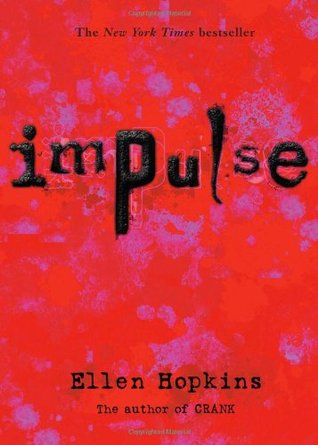 Impulse
By Ellen Hopkins Series:
Impulse #1
Source
Purchased
Published by
Margaret K. McElderry Books
on January 23, 2007
Rating:

From Goodreads:

Sometimes you don't wake up. But if you happen to, you know things will never be the same.

Three lives, three different paths to the same destination: Aspen Springs, a psychiatric hospital for those who have attempted the ultimate act -- suicide.

Vanessa is beautiful and smart, but her secrets keep her answering the call of the blade.

Tony, after suffering a painful childhood, can only find peace through pills.

And Conner, outwardly, has the perfect life. But dig a little deeper and find a boy who is in constant battle with his parents, his life, himself.

In one instant each of these young people decided enough was enough. They grabbed the blade, the bottle, the gun -- and tried to end it all. Now they have a second chance, and just maybe, with each other's help, they can find their way to a better life -- but only if they're strong and can fight the demons that brought them here in the first place.
This was a book club pick, and my first Ellen Hopkins book. I hadn't read one before because the subject matter of her books I'd heard of sounded way too heavy, so I was a bit anxious about reading this one. I was also intimidated by the size (600+ pages!) and the fact that it was a verse novel.
It took a long time for me to get into this book because of the format, and the dark subject matter, but it became a surprisingly quick read. The book deals with a lot of intense, uncomfortable subjects but never in a way that seems unrealistic or heavy-handed.
I had a tough time following the changing narration early on. The book alternates between Tony, Vanessa, and Connor narrating, and their voices were not distinct to me. If I'd put the book down for a while, I found myself needing to flip back a few pages to see whose section I was reading, but as the book went on, it became easier for me to sort it out.
I must say, the ending really shocked me. I didn't see something like that coming, although now I wonder if I was being way too naive. Regardless, it hit me hard and I was still thinking about it long after I finished the book and put it down.
While I'm not sure that I am ready to read another of Ellen Hopkins' books quite yet, this one is recommended if you want an intense read about heavy subjects and characters who will have you rooting for them all the way through. This is a book that will stay with you.