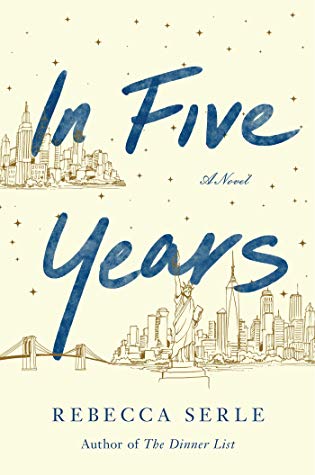 In Five Years
By Rebecca Serle Source
Received from the publisher
Published by
Atria Books
on March 10, 2020
Received from the publisher in exchange for an honest review. This does not affect my opinion of the book or the content of my review.
Rating:

Where do you see yourself in five years?

When Type-A Manhattan lawyer Dannie Cohan is asked this question at the most important interview of her career, she has a meticulously crafted answer at the ready. Later, after nailing her interview and accepting her boyfriend's marriage proposal, Dannie goes to sleep knowing she is right on track to achieve her five-year plan.

But when she wakes up, she's suddenly in a different apartment, with a different ring on her finger, and beside a very different man. The television news is on in the background, and she can just make out the scrolling date. It's the same night—December 15—but 2025, five years in the future.

After a very intense, shocking hour, Dannie wakes again, at the brink of midnight, back in 2020. She can't shake what has happened. It certainly felt much more than merely a dream, but she isn't the kind of person who believes in visions. That nonsense is only charming coming from free-spirited types, like her lifelong best friend, Bella. Determined to ignore the odd experience, she files it away in the back of her mind.

That is, until four-and-a-half years later, when by chance Dannie meets the very same man from her long-ago vision.

Brimming with joy and heartbreak, In Five Years is an unforgettable love story that reminds us of the power of loyalty, friendship, and the unpredictable nature of destiny.
I was so intrigued by the premise of this book, and I was eager to read it when I received an electronic copy for review.
This was a very quick read, since I was pulled into the story right away. And while I really appreciated that this book offered a look at a deep friendship and bond between Dannie and her best friend, Bella, there was something about it that just didn't click with me on an emotional level.
This was not what I expected it to be. I went into it thinking it was going to be more of a romance, but it really wasn't. I liked that the book surprised me, and I was eager to read to the end to find out what happened, but I just didn't connect with any of the characters. I felt strangely removed from Dannie and Bella's relationship, which is why I think I didn't have any emotional stakes in this story. I was interested to see how Dannie's story would turn out, yes, but I wasn't invested on a deeper level than that, and so despite what was happening on the page, I never felt moved.
I seem to be in the minority, though, and there are lots of glowing reviews for this one.