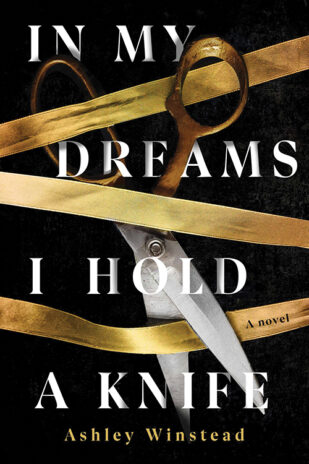 In My Dreams I Hold A Knife
By Ashley Winstead Source
Received from the publisher
Published by
Sourcebooks Landmark
on August 3, 2021
Received from the publisher in exchange for an honest review. This does not affect my opinion of the book or the content of my review.
Rating:

Six friends.
One college reunion.
One unsolved murder.

A college reunion turns dark and deadly in this chilling and propulsive suspense novel about six friends, one unsolved murder, and the dark secrets they've been hiding from each other—and themselves—for a decade.

Ten years after graduation, Jessica Miller has planned her triumphant return to southern, elite Duquette University, down to the envious whispers that are sure to follow in her wake. Everyone is going to see the girl she wants them to see—confident, beautiful, indifferent—not the girl she was when she left campus, back when Heather's murder fractured everything, including the tight bond linking the six friends she'd been closest to since freshman year. Ten years ago, everything fell apart, including the dreams she worked for her whole life—and her relationship with the one person she wasn't supposed to love.

But not everyone is ready to move on. Not everyone left Duquette ten years ago, and not everyone can let Heather's murder go unsolved. Someone is determined to trap the real killer, to make the guilty pay. When the six friends are reunited, they will be forced to confront what happened that night—and the years' worth of secrets each of them would do anything to keep hidden.

Told in racing dual timelines, with a dark campus setting and a darker look at friendship, love, obsession, and ambition, In My Dreams I Hold A Knife is an addictive, propulsive read you won't be able to put down.
I like dark academia and mysteries, so I thought this book would be right up my alley!
I loved the campus setting, and I was drawn into the story right away. I also liked the dual timelines, which I thought kept the story moving along at a brisk pace.
The thing I struggled with was getting a sense of what kept this group of friends together. Jessica was an interesting protagonist and I think she made this book as enjoyable as it was. She was complex and had a lot of insecurities about things like money and success, which were interesting to see explored. But the other characters didn't reach me the same way, and I just didn't understand what kept the group of friends together (which made it hard for me to be invested in the personal stakes for them).
As for the mystery, I thought it unwound well and the last few chapters had me frantically reading. But this book (and several others I've read) does that thing where it gives the reader what should be a great reveal or twist, and then right at the end does it again. It just felt predictable and not at all surprising.
I also couldn't really handle how often, and how easily, characters wound up pointing fingers at each other and accusing each other of being the killer. It became almost comical.
But if you love dark academia, this is likely one you should check out!