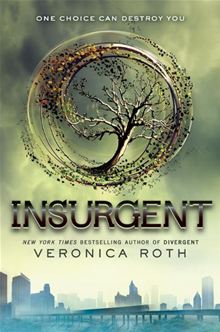 Insurgent
By Veronica Roth Series:
Divergent #2
Source
Purchased
Published by
HarperCollins Children's Books
on May 1, 2012
Rating:

One choice can transform you—or it can destroy you. But every choice has consequences, and as unrest surges in the factions all around her, Tris Prior must continue trying to save those she loves—and herself—while grappling with haunting questions of grief and forgiveness, identity and loyalty, politics and love.

Tris's initiation day should have been marked by celebration and victory with her chosen faction; instead, the day ended with unspeakable horrors. War now looms as conflict between the factions and their ideologies grows. And in times of war, sides must be chosen, secrets will emerge, and choices will become even more irrevocable—and even more powerful. Transformed by her own decisions but also by haunting grief and guilt, radical new discoveries, and shifting relationships, Tris must fully embrace her Divergence, even if she does not know what she may lose by doing so.

New York Times bestselling author Veronica Roth's much-anticipated second book of the dystopian DIVERGENT series is another intoxicating thrill ride of a story, rich with hallmark twists, heartbreaks, romance, and powerful insights about human nature.
Earlier this year, I read Divergent, the first book in this series, and loved it. I was eagerly anticipating this, the second in the series, which was released in May.
It took a few chapters for me to get into this book, probably because I've read a lot of books since I read Divergent and I couldn't remember who some of the secondary characters in this series were at first…but once I remembered who people were and what was going on, I was hooked and didn't put the book down until I had finished it.
I'm trying to be as spoiler-free as possible, so I'll just say that the events in this book take on a grander scale than those in Divergent, which I expected from the second book in a dystopian-ish series. Once again, Tris finds herself confused and uncertain of who to trust. People she thought were enemies become allies, and vice versa. I enjoy having the tables turned in that way, because it seems to give secondary characters more agency or personality.
I continue to enjoy the relationship between Tris and Four. Finally, a series without a romantic love triangle! Tris and Four's relationship is dynamic and complex enough without throwing another person in there just to stir up unnecessary drama.
A lot of the substance in the middle of the book had to do with Tris trying to live with consequences of her actions at the end of Divergent, and addressing whether her recklessness is brave or careless. She struggles with the idea of sacrifice and I was really interested in reading about her character going through that. She faced a lot of difficult decisions and had a lot of people against her, but she always wanted to do what she thought was right.
If I have to point out the negative, it would be that, like The List, the narration in Insurgent is present-tense, which I don't like. However, since that's my only real complaint here, I can't say it matters all that much or had too much of an impact on my enjoyment of the book.
Overall, this was a very fun, quick read. This book ended on a cliffhanger of sorts, and now I'm really looking forward to the third book, whatever it's called and whenever it's released!