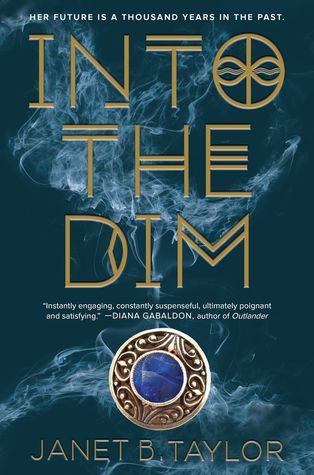 Into the Dim
By Janet B. Taylor Series:
Into the Dim #1
Source
Purchased
Published by
HMH Books for Young Readers
on March 1, 2016
Rating:

Cover image and summary from Goodreads:

When fragile, sixteen-year-old Hope Walton loses her mom to an earthquake overseas, her secluded world crumbles. Agreeing to spend the summer in Scotland, Hope discovers that her mother was more than a brilliant academic, but also a member of a secret society of time travelers. Trapped in the twelfth century in the age of Eleanor of Aquitaine, Hope has seventy-two hours to rescue her mother and get back to their own time. Along the way, her path collides with that of a mysterious boy who could be vital to her mission . . . or the key to Hope's undoing.
Ooh I'd had my eye on Into the Dim for a while. I love time travel stories, and what really jumped out to me about this one was that the time travel period was a loooooooooooong time ago: the 12th century! And I also loved that the story in present-day is mainly set in Scotland. Scotland is somewhere I've always wanted to visit, and I love to read stories that are set there.
However, despite my love for the concept of this story, it took a really long time to grab me. In fact, I started reading this via the library, but could not finish it before the due date, so ended up buying the e-book. It took me way longer than I usually take to finish reading.
Once the characters did travel back in time, I became more interested in them and in where things were going, but I still never felt really pulled into this book. I guess it didn't live up to my hopes/expectations, but I think I'll stick with the series and read the second book in the series. I do want to know how it all turns out!