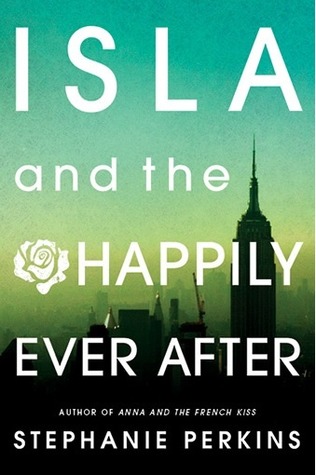 Isla and the Happily Ever After
By Stephanie Perkins Series:
Anna and the French Kiss #3
Source
Purchased
Published by
Dutton
on August 14, 2014
Rating:

Cover image and summary from Goodreads:

From the glittering streets of Manhattan to the moonlit rooftops of Paris, falling in love is easy for hopeless dreamer Isla and introspective artist Josh. But as they begin their senior year in France, Isla and Josh are quickly forced to confront the heartbreaking reality that happily-ever-afters aren't always forever.

Their romantic journey is skillfully intertwined with those of beloved couples Anna and Étienne and Lola and Cricket, whose paths are destined to collide in a sweeping finale certain to please fans old and new.
Like most people, I'd been looking forward to reading Isla and the Happily Ever After for years! I pre-ordered my copy a long, long time ago, and when it showed up at my door almost two weeks before the release date, I couldn't wait to start reading!
My initial reaction upon finishing reading this book was a happy sigh. I really liked it, but after listening to and reading other people's thoughts on the book, I began to worry that I didn't love it as much as everyone else. This troubled me – it made me feel bad, or like I'd missed something – until I remembered that we all have different reading experiences, and different tastes and opinions. It's okay to like something other people don't, and to dislike something that everyone else loves. And of course it's perfectly fine to like a book rather than LOVE it.
So with that out of my system, what I did love here was the writing, the story, and the characters. The end of the book – which features Anna and Etienne, and Lola and Cricket. and ties all three books together – was absolutely my favourite part!  I was smiling big-time as I read the last few pages!
It's just that I found many of Isla's decisions and actions really frustrating, and I also felt that parts of the story felt forced. I don't know how to explain it without spoiling things, but if you're curious, let me know and I'll fill you in!
Still, this is my second-favourite book of this series, with Anna and the French Kiss still my favourite!
I highly recommend this book, and the whole series! Stephanie Perkins is a fabulous writer, and I'm definitely going to read her next book!