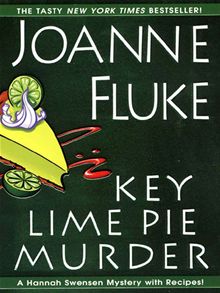 Key Lime Pie Murder
By Joanne Fluke Series:
Hannah Swenson #9
Source
Purchased
Published by
Kensington Publishing Corporation
on March 1, 2007
Rating:

The yummy [ninth] smalltown cozy from Fluke (after 2006's Cherry Cheesecake Murder) finds sometime sleuth Hannah Swensen, owner of the Cookie Jar in Lake Eden, Minn., judging the baking contest at the Tri-County Fair.

When one of her fellow judges, home economics teacher Willa Sunquist, is murdered, Hannah determines to sniff out the killer. Was it a man from Willa's mysterious past? Or a student she flunked?

Fluke has developed a charming supporting cast — Hannah's besotted (and slightly spineless) two suitors, her overbearing but likable mother, her endearing sisters and her levelheaded business partner all feel like friends by the time the murder is solved.
Yes, another Hannah Swenson book. They're fun, quick and easy reads, and I really enjoy them.
In this story, Hannah is judging the baking contest at the local fair. Of course, she finds a dead body – her fellow baking contest judge, Willa. And of course, Hannah is going to investigate the murder, solve it, and wind up in danger!
As with all Hannah books, I liked this one. The murder didn't occur until a few chapters in, which let me get to know and like Willa before Hannah discovers her dead body. As usual, I had my ideas about who the killer was, but I didn't overthink it and just let Hannah work things out for me.
It seemed as though the love triangle with Mike and Norman was on the back burner in this story, which was fine with me, since Hannah is no closer to choosing between the two of them. Her sisters, Andrea and Michelle, were featured more prominently in this story as her crime-solving partners, which I enjoyed. Michelle does not appear in most of the books because she attends college out of town, so I was happy to have her back in this novel.
I recommend this book – and the series as a whole – if you're looking to read something light and fun.