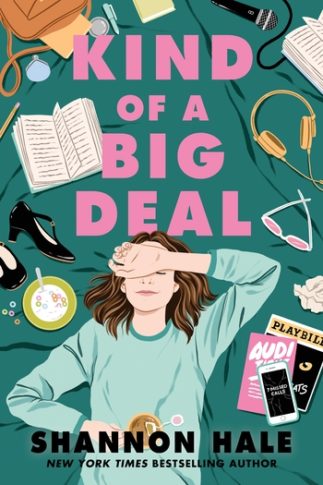 Kind Of A Big Deal
By Shannon Hale Source
Received from the publisher
Published by
Roaring Brook Press
on August 25, 2020
Received from the publisher in exchange for an honest review. This does not affect my opinion of the book or the content of my review.
Rating:

There's nothing worse than peaking in high school. Nobody knows that better than Josie Pie.

She was kind of a big deal―she dropped out of high school to be a star! But the bigger you are, the harder you fall. And Josie fell. Hard. Ouch. Broadway dream: dead.

Meanwhile, her life keeps imploding. Best friend: distant. Boyfriend: busy. Mom: not playing with a full deck? Desperate to escape, Josie gets into reading.

Literally. She reads a book and suddenly she's inside it. And with each book, she's a different character: a post-apocalyptic heroine, the lead in a YA rom-com, a 17th century wench in a corset.

It's alarming. But also . . . kind of amazing?

It's the perfect way to live out her fantasies. Book after book, Josie the failed star finds a new way to shine. But the longer she stays in a story, the harder it becomes to escape.

Will Josie find a story so good that she just stays forever?
The synopsis for this book was irresistible to me! Escaping into books, literally? That sounds like my kind of story!
I had a difficult time getting into this book initially, because something about the writing style and dialogue just didn't click for me. It was awkward and stilted. But once Josie started escaping into the books she was reading, I had a lot of fun reading this! 
I really liked Josie's character development. While she was a mess at the beginning, she came to understand herself, and her relationships with her best friend Nina and boyfriend Justin, in a way that I thought showed real growth and insight.
The dialogue and writing style never grew on me, but the story was inventive enough that I got past that and had fun reading this one.