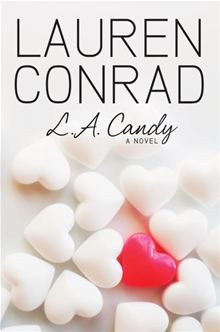 L.A. Candy
By Lauren Conrad Series:
L.A. Candy #1
Source
Purchased
Published by
HarperCollins
on June 16, 2009
Rating:

Los Angeles is all about the sweet life: hot clubs, cute guys, designer...everything. Nineteen-year-old Jane Roberts can't wait to start living it up. She may be in L.A. for an internship, but Jane plans to play as hard as she works, and has enlisted her BFF Scarlett to join in the fun.

When Jane and Scarlett are approached by a producer who wants them to be on his new series, a "reality version of Sex and the City," they can hardly believe their luck. Their own show? Yes, please!

Soon Jane is TV's hottest star. Fame brings more than she ever imagined possible for a girl from Santa Barbara-free designer clothes, the choicest tables at the most exclusive clubs, invites to Hollywood premieres-and she's lapping up the VIP treatment with her eclectic entourage of new pals. But those same friends who are always up for a wild night are also out for a piece of Jane's spotlight.

In a city filled with people chasing after their dreams, it's not long before Jane wakes up to the reality that everyone wants something from her, and nothing is what it seems to be.
As a fan of The Hills, the reality TV-show that featured Lauren Conrad, I was a bit intrigued by this book.
I was pleasantly surprised by this book! It was fun, light reading, and I was constantly on the look-out for veiled references to The Hills!  The book introduces us to Jane Roberts, newly moved to L.A., who meets a television producer while out at a club with her best friend and roommate, Scarlett Harp.
They're picked for a new reality show, L.A. Candy, which will feature two other girls, Gaby and Madison. At first, Jane is apprehensive – will anyone really want to watch her answer phones at work? But she has fun at the various magazine interviews and photo shoots designed to drum up publicity for the show's premiere, and reminds herself that she came to L.A. to challenge herself and try something new.
Scarlett, meanwhile, becomes more pessimistic about the show as time goes by. She doesn't like the way the camera crews interfere with her classes at USC, and she doesn't want to pretend to like Gaby and Madison. Plus, ever since they started filming the show, she's felt as though she and Jane are somehow growing apart.
There's also some major boy/romance drama going on, but I don't want to give away any spoilers. It's pretty fun stuff though!
This was fun, light summer reading, and if you are/were a fan of The Hills or reality television, I recommend this books. As I said above, I was surprised by how much I liked it, and I'll definitely be reading the next in the series, Sweet Little Lies!