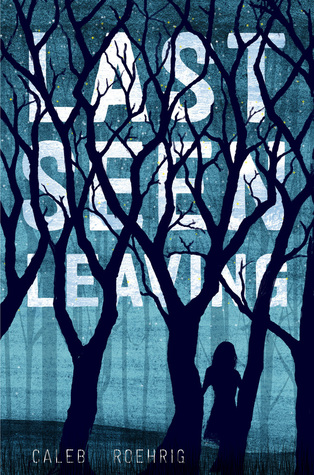 Last Seen Leaving
By Caleb Roehrig Source
Received from the publisher
Published by
Feiwel and Friends
on October 4, 2016
Received from the publisher in exchange for an honest review. This does not affect my opinion of the book or the content of my review.
Rating:

Cover image and summary from Goodreads:

Flynn's girlfriend has disappeared. How can he uncover her secrets without revealing his own?

Flynn's girlfriend, January, is missing. The cops are asking questions he can't answer, and her friends are telling stories that don't add up. All eyes are on Flynn—as January's boyfriend, he must know something.

But Flynn has a secret of his own. And as he struggles to uncover the truth about January's disappearance, he must also face the truth about himself.
I was really excited to read Last Seen Leaving and hoped it would be a great twisty mystery. While there were things that I liked about the book, I solved the mystery fairly early on and it didn't feel very twisty or surprising to me. However, I read a LOT of books, and I think I've said before that it's probably difficult to surprise readers who read an awful lot.
I liked the writing and the characters, but I didn't feel super invested in anything that was going on. There was some exciting stuff towards the end – I really don't want to spoil anything about the story so apologies for being so vague – but somehow overall, while Last Seen Leaving was a good book and a fun read, I didn't love it.
However, I've seen a lot of reviews from people who really loved the book, and I'm definitely interested in reading future books from Caleb Roehrig. Check out Last Seen Leaving if you're looking for a mystery to curl up with curl up with in this cold weather.