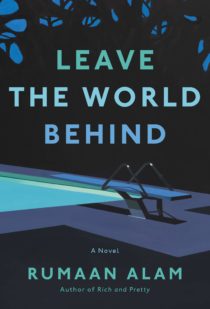 Leave The World Behind
By Rumaan Alam Source
Received from the publisher
Published by
Ecco
on October 6, 2020
Received from the publisher in exchange for an honest review. This does not affect my opinion of the book or the content of my review.
Rating:

Amanda and Clay head out to a remote corner of Long Island expecting a vacation: a quiet reprieve from life in New York City, quality time with their teenage son and daughter, and a taste of the good life in the luxurious home they've rented for the week. But a late-night knock on the door breaks the spell. Ruth and G. H. are an older black couple—it's their house, and they've arrived in a panic. They bring the news that a sudden blackout has swept the city. But in this rural area—with the TV and internet now down, and no cell phone service—it's hard to know what to believe.

Should Amanda and Clay trust this couple—and vice versa? What happened back in New York? Is the vacation home, isolated from civilization, a truly safe place for their families? And are they safe from one another?

Suspenseful and provocative, Rumaan Alam's third novel is keenly attuned to the complexities of parenthood, race, and class. Leave the World Behind explores how our closest bonds are reshaped—and unexpected new ones are forged—in moments of crisis.
I read this e-ARC in a single day. Like Amanda and Clay, I was lulled into a feeling of complacency and isolation for the first few chapters, but gradually things became stranger and more tense until it was too late to doubt that something was happening.
And the 'what' of it all was a backdrop to reflections on family, parenthood, class, and race. This was an intriguing, compelling story that felt all too real.