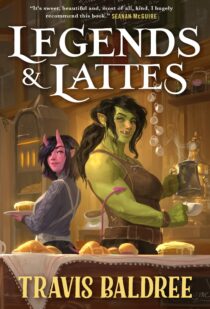 Legends & Lattes
By Travis Baldree Series:
Legends & Lattes #1
Source
Purchased
Published by
Tor
on June 7, 2022
Rating:

After a lifetime of bounties and bloodshed, Viv is hanging up her sword for the last time.

The battle-weary orc aims to start fresh, opening the first ever coffee shop in the city of Thune. But old and new rivals stand in the way of success — not to mention the fact that no one has the faintest idea what coffee actually is.

If Viv wants to put the blade behind her and make her plans a reality, she won't be able to go it alone.

But the true rewards of the uncharted path are the travelers you meet along the way. And whether drawn together by ancient magic, flaky pastry, or a freshly brewed cup, they may become partners, family, and something deeper than she ever could have dreamed.
This did not strike me as my kind of book when I first heard about it. It sounded cute and cozy, but that isn't always what I'm interested in reading. But I kept seeing great reviews, and then it was a book club pick, so I got a copy for my ereader.
This is definitely a cute and cozy read, and I did enjoy seeing Viv's coffee shop come together. I think this may have been too cozy for me sometimes, since I felt like I kept waiting for something more to happen, or higher stakes. But it was very cute with a sweet romance (and an adorable baker named Thimble), which was a nice change of pace from my usual reads I admit, and it definitely made me want a big mug of coffee and something sweet to snack on!