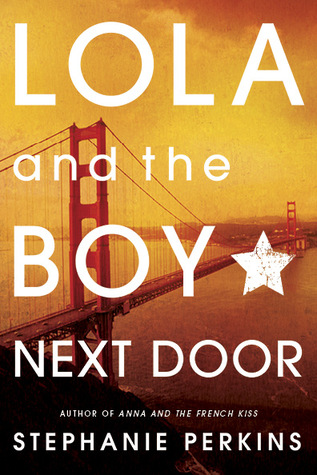 Lola and the Boy Next Door
By Stephanie Perkins Series:
Anna and the French Kiss #2
Source
Giveaway
Published by
Speak
on July 9, 2013
Rating:

Cover image and summary from Goodreads:

Lola Nolan is a budding costume designer, and for her, the more outrageous, sparkly, and fun the outfit, the better. And everything is pretty perfect in her life (right down to her hot rocker boyfriend) until the Bell twins, Calliope and Cricket, return to the neighbourhood. When Cricket, a gifted inventor, steps out from his twin sister's shadow and back into Lola's life, she must finally reconcile a lifetime of feelings for the boy next door.

After I read and loved Anna and the French Kiss last year, I knew I had to read Lola and the Boy Next Door, a companion to Anna. I was incredibly lucky and won a signed paperback of this book from Stephanie Perkins herself, via a Twitter giveaway, and then…the book sat on my shelf for a really long time. With the next book in the series, Isla and the Happily Ever After, coming out in August this year, I knew that I had to get my act together and read this book!
My favourite thing about this book is that Anna and Etienne are in it! I knew that they would be, but I thought it would be brief. I was so happy when I realized they'd be in more than one scene. Of course, this book has its own couple, Lola and Cricket. How can you not fall for Cricket Bell? He's kind, smart, awkward, and totally endearing. And Lola – she's so unique! I loved her creativity and how she was totally herself, even if other people didn't always understand or appreciate it.
I knew Lola and Cricket would wind up together, so the drama came from their journey to get there: dealing with parents, Lola's tense relationship with Cricket's twin sister, misunderstandings, and oh yeah, Lola's boyfriend Max. There were plenty of obstacles to overcome, but I loved reading along as Lola and Cricket figured out their feelings for each other and how to move beyond their history towards friendship, and then something more.
Anna and the French Kiss is the book that got me to appreciate and enjoy contemporary YA, and with Lola and the Boy Next Door, I've seen again how wonderful Stephanie Perkins is at telling a story and creating characters you can't help but love. I'm now eagerly looking forward to reading Isla and the Happily Ever After!