Love Letters to the Dead
By Ava Dellaira
Source: ARC received from publisher via Netgalley
Release Date: April 1, 2014
My Rating: 5 / 5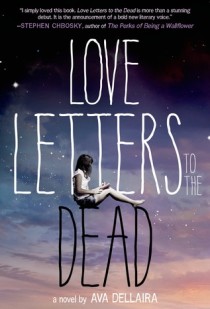 From Goodreads:
It begins as an assignment for English class: Write a letter to a dead person. Laurel chooses Kurt Cobain because her sister, May, loved him. And he died young, just like May did. Soon, Laurel has a notebook full of letters to people like Janis Joplin, Amy Winehouse, Amelia Earhart, Heath Ledger, and more; though she never gives a single one of them to her teacher. She writes about starting high school, navigating new friendships, falling in love for the first time, learning to live with her splintering family. And, finally, about the abuse she suffered while May was supposed to be looking out for her. Only then, once Laurel has written down the truth about what happened to herself, can she truly begin to accept what happened to May. And only when Laurel has begun to see her sister as the person she was; lovely and amazing and deeply flawed; can she begin to discover her own path.
Well, I almost got through this book without crying, but dammit, this book got to me. I lost it at the end, and I practically never cry when I read books! Part of what affected me was thinking about so much potential, gone – not just the famous people that Laurel writes to, but her sister. These people who were so full of life and energy, and then who are just gone, forever, is tragic. Reading Laurel's letters, connecting them with memories of her sister, was just so sad.
As the middle child of three girls, I have a particular interest in stories about sibling relationships, and that likely contributed to my feelings as I read this book. It was so interesting to see Laurel's view of May change throughout the course of the book, learning that perhaps we only see one side of a person, and it may not be what others see.
This was really excellent. It was beautifully written, and I enjoyed the concept/structure, with Laurel telling her story through these letters to dead people. The lack of chapter breaks was a bit confusing initially as I kept telling myself I'd just finish the first chapter and then get some other stuff done, but the end of the chapter never came! Once I figured that out, though, it was smooth sailing.
This is definitely a recommended read. It's intense, moving, funny, sad, and Laurel was totally relatable, even when I was wishing she wouldn't do some of the things I knew she was about to do. It's really rare for me to get so into a contemporary, realistic fiction book, but I couldn't put this down. For its writing and the way it made me feel so much, I have to rate this book five out of five and tell you to read it!
Related Posts