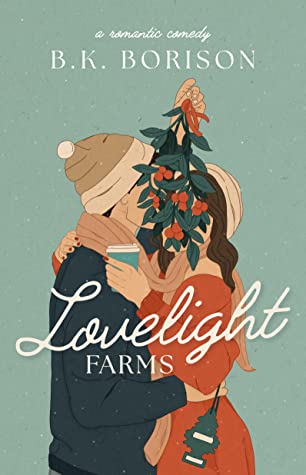 Lovelight Farms
By B.K. Borison Series:
Lovelight #1
Source
Purchased
Published by
Indie / Self-Published
on November 10, 2021
Rating:

A pasture of dead trees. A hostile takeover of the Santa barn by a family of raccoons. And shipments that have mysteriously gone missing. Lovelight Farms is not the magical winter wonderland of Stella Bloom's dreams.

In an effort to save the Christmas tree farm she's loved since she was a kid, she enters a contest with instafamous influencer Evelyn St. James. With the added publicity and the $100,000 cash prize, she might just be able to save the farm from its financial woes. There's just one problem. To make the farm seem like a romantic destination for the holidays, she lied on the application and said she owns Lovelight Farms with her boyfriend. Only … there is no boyfriend.

Enter best friend Luka Peters. He just came home for some hot chocolate, and somehow got a farm and a serious girlfriend in the process.
This is a romance I'd seen all over Instagram from other readers and bloggers I follow, and one day when I was looking for something light and cozy to read, I decided to check it out.
Friends to lovers is not my favourite romance trope, but I liked this story. I loved the setting (it sort of gave me Gilmore Girls/Stars Hollow vibes), and how could I not like something with a Christmas tree farm at its centre?
The story and the romance were definitely cute, and I do like fake dating, but there was a really annoying fight View Spoiler » where Luka tells Stella he loves her but she basically says he doesn't, and it's a whole thing, and I hated that she was basically telling Luka that he didn't actually feel what he said he did, just so annoying and frustrating. I understand that she was afraid of losing him and their friendship, but I simply didn't like it « Hide Spoiler.
And honestly, I hated that Luka called her La La. I don't know why but it grated on me every single time he said it, which was a lot.
The secondary characters, Beckett and Layla, were lovable and I think they each have their own companion novel in the series, which is fun. I think my issue with this book (and probably all contemporary romance) is that I just don't always find it interesting. And while the first half of this book pulled me in, I just didn't find the final half all that captivating. I didn't like the conflict (for the spoilery reasons mentioned above).
So this book was just average for me, but it gets a lot of love from readers who enjoy contemporary romance more than I do.