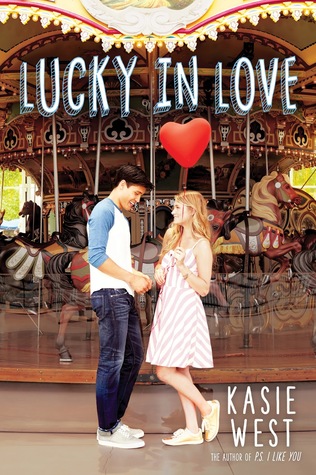 Lucky In Love
By Kasie West Source
Received from the publisher
Published by
Scholastic
on July 25, 2017
Received from the publisher in exchange for an honest review. This does not affect my opinion of the book or the content of my review.
Rating:

Cover image and synopsis from Goodreads:

Can't buy me love…

Maddie's not impulsive. She's all about hard work and planning ahead. But one night, on a whim, she buys a lottery ticket. And then, to her astonishment—

She wins!

In a flash, Maddie's life is unrecognizable. No more stressing about college scholarships. Suddenly, she's talking about renting a yacht. And being in the spotlight at school is fun…until rumors start flying, and random people ask her for loans. Now Maddie isn't sure who she can trust.

Except for Seth Nguyen, her funny, charming coworker at the local zoo. Seth doesn't seem aware of Maddie's big news. And, for some reason, she doesn't want to tell him. But what will happen if he learns her secret?
I picked this book up because I was in the mood for a cute, fun contemporary, and that's what I thought this book would be. And it was!
Who hasn't daydreamed about winning the lottery? I don't even buy lottery tickets, but I admit, sometimes I like to think about what I'd do with all that money if I did play and win. It's fun for a while, until reality comes crashing in to remind me that I'm not rich!
But Maddie does win the lottery, and it definitely seems to be a blessing at first. Her family is having some financial struggles, and she knows that this money could help: she won't have to worry about paying for college now; maybe her parents will stop fighting; maybe she can help her brother…but of course it doesn't take long before people try to take advantage of Maddie. Relatives come out of the woodwork, she isn't sure if she can trust her new friends, and she worries that her old friends will see or treat her differently. And can any amount of money "fix" her parents' relationship?
This was a fun book, and I especially liked the romance between Maddie and Seth! They were co-workers, and they didn't go to the same school but Maddie worried about Seth finding out about her lottery winnings somehow. He was the only person who didn't know and who was treating her like regular Maddie…and he was also funny and charming and she was maybe developing a crush on him.
But I felt like the end of the story was rushed and that the resolution was really quick. I liked that part of the lesson Maddie learned was that you can't control or be responsible for the choices that other people make, but something about the end just felt like it got resolved really quickly (too quickly for my liking, I guess).
But Lucky In Love was a fun escape from reality, and I enjoyed it more than the other Kasie West book I read (By Your Side). I've got to check out some of her other books now!