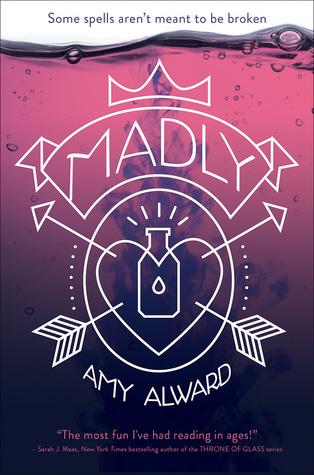 Madly
By Amy Alward Series:
Potion #1
Source
Purchased
Published by
Simon & Schuster Books for Young Readers
on September 29, 2015
Rating:

When the Princess of Nova accidentally poisons herself with a love potion meant for her crush, she falls crown-over-heels in love with her own reflection. Oops. A nationwide hunt is called to find the cure, with competitors travelling the world for the rarest ingredients, deep in magical forests and frozen tundras, facing death at every turn.

Enter Samantha Kemi - an ordinary girl with an extraordinary talent. Sam's family were once the most respected alchemists in the kingdom, but they've fallen on hard times, and winning the hunt would save their reputation. But can Sam really compete with the dazzling powers of the ZoroAster megapharma company? Just how close is Sam willing to get to Zain Aster, her dashing former classmate and enemy, in the meantime?

And just to add to the pressure, this quest is ALL OVER social media. And the world news.

No big deal, then.
This book has been on my shelf for years! I went to a book launch party for it and got my copy signed by the author, and despite my intentions, it stayed unread on my shelf all these years.
This was my pick for one of my book clubs, because I'm trying to read the books that have been on my shelf for a long time. I did a big bookshelf cull earlier this year and the unread books that survived are the ones that I'm determined to read in the next year or so, including this one.
This was a fun, quick read. I really liked the magic and alchemy systems, but the characters and the romance felt a bit underdeveloped to me.
But there was something really fun about this one, and I have the sequel, Royal Tour, on my shelf too, so I can carry on with the series.