By Bethany Griffin
Source: Purchased
My Rating: 4 / 5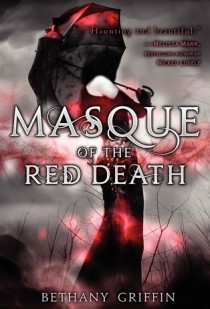 This was a book club book, but also a book that I'd wanted to read for some time.
Here is the Goodreads summary:
Everything is in ruins.

A devastating plague has decimated the population, and those who are left live in fear of catching it as the city crumbles around them.

So what does Araby Worth have to live for?

Nights in the Debauchery Club, beautiful dresses, glittery makeup . . . and tantalizing ways to forget it all.

But in the depths of the club—in the depths of her own despair—Araby will find more than oblivion. She will find Will, the terribly handsome proprietor of the club, and Elliott, the wickedly smart aristocrat. Neither is what he seems. Both have secrets. Everyone does.

And Araby may find not just something to live for, but something to fight for—no matter what it costs her.
First of all, I loved the setting. We talked about this a bit at book club, and I saw this as being set in some alternate history, rather than trying to place it within a specific time period. It felt like steampunk to me, and I don't read much steampunk so I could be wrong, but I liked the book's world and atmosphere. It's totally bleak, but I was super interested in it.
Unfortunately, I felt like the world-building was a bit lacking. I loved the descriptions of abandoned buildings, people dying in the streets, etc. (geez the things that appeal to me!) but I really wanted to know more. Of course, I know there's a sequel that probably provides that information, but I was just hoping to learn some background, how things came to be this way.
This story kept surprising me. Things were revealed that took me totally off guard, and I love when a book is unpredictable. SPOILERS: the truth behind Finn's death, Elliott's father being alive (and Malcontent), and the secret Araby's mother was keeping are the main things that spring to mind. Honestly, I didn't see any of those things coming, which was great! END SPOILERS.
The love triangle was a bit ho-hum for me, to be honest. While I totally fell for Will, Elliott was not attractive to me in the least. He was an interesting character, and I'm curious about his motivations and goals, but I don't like him as a romantic interest. There was enough going on in this book, in my opinion, without really needing to try and ratchet up the conflict by making a love triangle.
One of the things that was mentioned at book club that I have been thinking about is that all the characters in this book are keeping secrets from everyone. Every character had something going on beneath his/her surface, and after learning their secrets, I thought over what I'd read so far and reevaluated what I thought of these characters. There's  just so much tension and conflict in this book, and I really liked that!
I also liked Araby. I could understand why she went to the Debauchery Club – the world's a mess, people are stuck living behind masks (if they can afford any), and maybe the only thing to do is try to forget it all for a little while. It's not how I would choose to do things, but in this story, for that character, I could understand it. And that's what made it better for me when Araby began to see something to fight for, and someone to fight against.
I'm feeling a bit lazy, so while I initially wanted to say a lot more about the characters, I'm just going to wrap it up, haha.
I am really looking forward to the next book, since the end of this book seemed to set things up nicely for a sequel. I think this is only a duology, so I'm really hoping that my questions about the world will be answered!