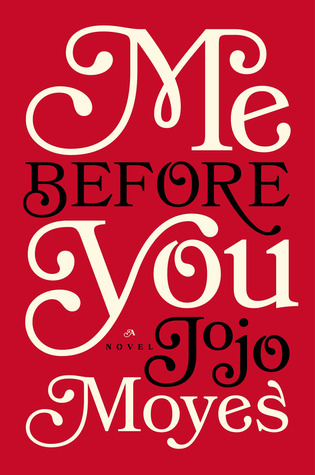 Me Before You
By Jojo Moyes Series:
Me Before You #1
Source
Borrowed
Published by
Pamela Dorman Books/Viking
on December 31, 2012
Rating:

Cover image and summary from Goodreads:

Lou Clark knows lots of things. She knows how many footsteps there are between the bus stop and home. She knows she likes working in The Buttered Bun tea shop and she knows she might not love her boyfriend Patrick.

What Lou doesn't know is she's about to lose her job or that knowing what's coming is what keeps her sane.

Will Traynor knows his motorcycle accident took away his desire to live. He knows everything feels very small and rather joyless now and he knows exactly how he's going to put a stop to that.

What Will doesn't know is that Lou is about to burst into his world in a riot of colour. And neither of them knows they're going to change the other for all time.
Me Before You was a pick for one of my book clubs. I knew that there was a lot of love for this book, so I was excited to read it.
This was also my first Jojo Moyes book. I loved her writing. I also found that the book was funnier than I expected: Lou was funny and quirky, but Will had a sense of humour too that emerged as he and Lou spent more time together.
I loved the way Lou and Will got to know each other and slowly opened up to each other. It was, of course, obvious to me how they felt about each other, before it was clear to both of them.
I don't want to get into spoiler-y stuff, but I think it's pretty clear from reader reactions that this is definitely a book that will tug at your heartstrings. I was surprised though that there was more than the relationship between Will and Lou that moved me. I found Lou's relationship with her family and their struggles – and the way they sacrificed for each other – really touching. I also loved the love/hate (but really love) relationship Lou had with her sister, Treena.
At times, the book would switch narrative perspectives – Will's mother narrates a chapter, as does his father – which was fine because it let me learn something about these characters that I might not have otherwise, but there was a specific instance towards the end of the book that I found quite jarring. It actually frustrated me immensely.
Overall, this was an excellent book! I can't wait for the film adaption. Definitely recommended.