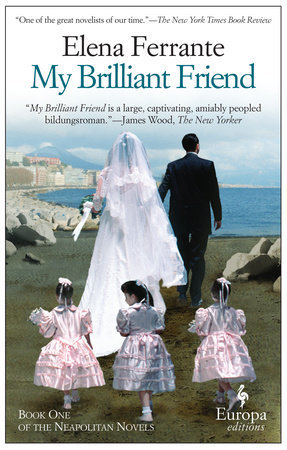 My Brilliant Friend
By Elena Ferrante, Ann Goldstein (transl.) Series:
Neopolitan Novels #1
Source
Purchased
Published by
Penguin Random House
on September 25, 2012
Rating:

A modern masterpiece from one of Italy's most acclaimed authors, My Brilliant Friend is a rich, intense and generous hearted story about two friends, Elena and Lila. Ferrante's inimitable style lends itself perfectly to a meticulous portrait of these two women that is also the story of a nation and a touching meditation on the nature of friendship. Through the lives of these two women, Ferrante tells the story of a neighbourhood, a city and a country as it is transformed in ways that, in turn, also transform the relationship between her two protagonists.
This book had been on my radar for ages, and I finally read it as part of my personal challenge to read one translated book each month this year.
I loved this book. I loved the writing, which was so vibrant and detailed that I could picture everything – Elena's village, her schoolrooms, the beach – and I was so immersed in the story.
It was so easy to get lost in this book, and particularly in Elena and Lila's long friendship. The love, competitiveness, jealousy, and admiration between the girls throughout their youth was fascinating, and of course so relatable from that time of my life as well.
I actually gasped when I finished reading, and needed to order book two immediately. I'm not sure why, but I didn't expect to love this book as much as I did, and so reading it and being as captivated by it as I was was a very pleasant surprise.