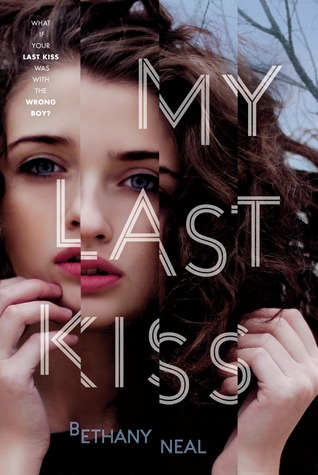 My Last Kiss
By Bethany Neal Source
Received from the publisher
Published by
Farrar Straus Giroux
on June 10, 2014
Received from the publisher in exchange for an honest review. This does not affect my opinion of the book or the content of my review.
Rating:

Cover image and summary from Goodreads:

What if your last kiss was with the wrong boy?

Cassidy Haines remembers her first kiss vividly. It was on the old covered bridge the summer before her freshman year with her boyfriend of three years, Ethan Keys. But her last kiss--the one she shared with someone at her seventeenth birthday party the night she died--is a blur. Cassidy is trapped in the living world, not only mourning the loss of her human body, but left with the grim suspicion that her untimely death wasn't a suicide as everyone assumes. She can't remember anything from the weeks leading up to her birthday and she's worried that she may have betrayed her boyfriend.

If Cassidy is to uncover the truth about that fateful night and make amends with the only boy she'll ever love, she must face her past and all the decisions she made--good and bad--that led to her last kiss.

Bethany Neal's suspenseful debut novel is about the power of first love and the haunting lies that threaten to tear it apart.
My Last Kiss is a book that pulled me in as the story went on, but had a slow start. I was really interested in the mystery, but didn't feel any connection with the characters (I feel like I've been saying that a lot lately, so I don't know if it's me or the books I've been choosing).
What really bothered me was that I never quite understood what drew Cassidy to Caleb. He seemed to be such an important part of the story, but I didn't feel as though I got any sense of Cassidy's connection with him.
Of course, loving paranormal stories as I do, I was really intrigued by Cassidy's ghostliness. I wish that had been explored more, though. Like why was only one person able to see her, and why that person?
The timeline jumps back and forth, which I found super confusing at first, but ultimately I liked the way it helped unravel the central mystery, and shed light on Cassidy's last few days.
Overall, My Last Kiss was a fairly quick, easy read with a good mystery. There wasn't anything I strongly disliked about this book, but there wasn't anything that I loved about it either.