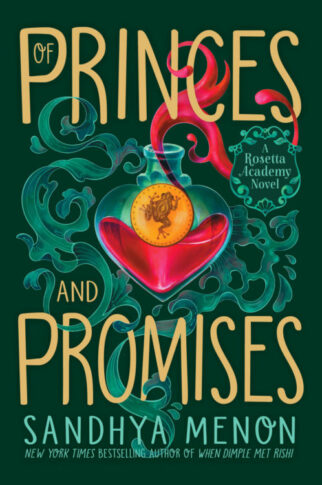 Of Princes And Promises
By Sandhya Menon Series:
St. Rosetta's Academy #2
Source
Received from the publisher
Published by
Simon & Schuster Books for Young Readers
on June 8, 2021
Received from the publisher in exchange for an honest review. This does not affect my opinion of the book or the content of my review.
Rating:

Caterina LaValle is determined to show she's still the queen of St. Rosetta's Academy. Sure, her crown may be slightly askew after her ex-boyfriend, Alaric, cheated on her, but she's a LaValle. She'll find a way to march right back in there, her hands clutching the strings to the whole puppet show. This time, she's going to be untouchable.

Rahul Chopra knows that moment he shared with Caterina LaValle at the winter formal meant something. Surely she feels it, too. He's a little uncertain how someone like him (socially inept to a point way past "adorkable") could fit into her world, but he's loved Caterina for years. He knows they'll find a way.

When Caterina finds out Alaric is taking a supermodel to the upcoming gala, she knows she cannot arrive without the perfect date. But the thought of taking another superficial St. R's boy exhausts her. The solution? Sweet-but-clueless Rahul Chopra and a mysterious pot of hair gel with the power to alter the wearer into whatever his heart desires.

When Rahul tries it, he transforms instantly into RC—debonair, handsome, and charming. But transformation comes with a price: As Rahul enjoys his new social standing, the line between his two personas begins to blur. Will he give up everything, including Caterina, to remain RC? Or will this unlikely pair find their way back to each other?
I enjoyed this much more than the first in the series! I am definitely a sucker for a fake dating story, so I had a lot of fun reading about Caterina and Rahul.
The magical twist on this tale was fun, and I really liked Rahul. His conflict between being himself vs being who he thought people liked better (RC) and whether he liked being RC better was really interesting and made me totally sympathetic towards him.
I'm looking forward to more books in this series now!