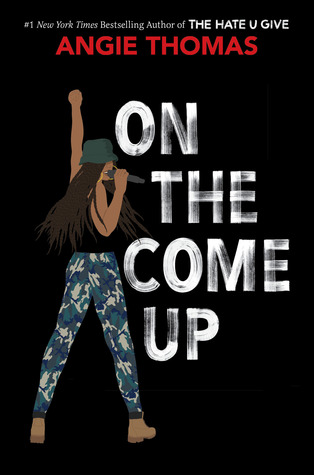 On the Come Up
By Angie Thomas Source
Received from the publisher
on February 5, 2019
Received from the publisher in exchange for an honest review. This does not affect my opinion of the book or the content of my review.
Rating:

Sixteen-year-old Bri wants to be one of the greatest rappers of all time. Or at least make it out of her neighborhood one day. As the daughter of an underground rap legend who died before he hit big, Bri's got big shoes to fill. But now that her mom has unexpectedly lost her job, food banks and shutoff notices are as much a part of Bri's life as beats and rhymes. With bills piling up and homelessness staring her family down, Bri no longer just wants to make it—she has to make it.

On the Come Up is Angie Thomas's homage to hip-hop, the art that sparked her passion for storytelling and continues to inspire her to this day. It is the story of fighting for your dreams, even as the odds are stacked against you; of the struggle to become who you are and not who everyone expects you to be; and of the desperate realities of poor and working-class black families.
This was a pick for one of my book clubs, and I was so excited. The Hate U Give was fantastic, and I'd already heard that On the Come Up was excellent.
I think I liked this book even more than The Hate U Give. I loved Bri's passion and it was interesting to see her navigate the challenges that arose as her song became successful: how much could she trust people saying they wanted her to make it big? What should she do about people who twisted her song's message, or who didn't get it? And Bri was dealing with her family, friends, school, and a possible love interest on top of that. There was a lot happening in this book but Angie Thomas made it all work. The way she shows the racism and economic struggles that Bri is up against daily, particularly the way she was treated by the school administrators and security, made my heart go out to Bri and was so frustrating.
It was so well-written and I honestly didn't know what Bri was going to decide to do and how her story would turn out. I couldn't put it down.
Highly recommended!