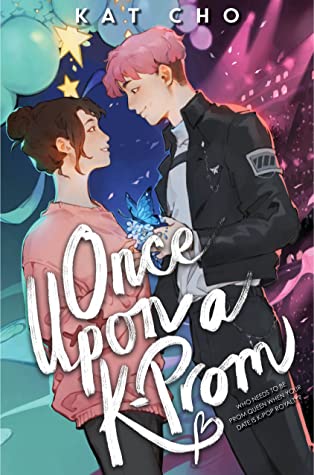 Once Upon A K-Prom
By Kat Cho Source
Received from the publisher
Published by
Disney
on May 17, 2022
Received from the publisher in exchange for an honest review. This does not affect my opinion of the book or the content of my review.
Rating:

Elena Soo has always felt overshadowed. Whether by her more successful older sisters, her more popular twin brother, or her more outgoing best friend, everyone except Elena seems to know exactly who they are and what they want. But she is certain about one thing - she has no interest in going to prom. While the rest of the school is giddy over corsages and dresses, Elena would rather spend her time working to save the local community center, the one place that's always made her feel like she belonged.

So when international K-pop superstar Robbie Choi shows up at her house to ask her to prom, Elena is more confused than ever. Because the one person who always accepted Elena as she is? Her childhood best friend, Robbie Choi. And the one thing she maybe, possibly, secretly wants more than anything? For the two of them to keep the promise they made each other as kids: to go to prom together. But that was seven years ago, and with this new K-pop persona, pink hair, and stylish clothes, Robbie is nothing like the sweet, goofy boy she remembers. The boy she shared all her secrets with. The boy she used to love.

Besides, prom with a guy who comes with hordes of screaming fans, online haters, and relentless paparazzi is the last thing Elena wants - even if she can't stop thinking about Robbie's smile...right?
It's no secret that I love stories featuring k-pop, so I was very excited to read Once Upon A K-Prom!
I loved this story. It was sweet, and I identified with so many aspects of Elena's character. I also loved the childhood-friendship-turns-into-romance angle, because even though Elena and Robbie had been best friends and known each other well at one point, there were so many changes in their lives that they had to sort of get to know each other all over again – and having a romance develop as they did was really cute.
I loved getting Robbie's perspective on the story was well, and seeing the dynamic between him and his group members was so fun. I also loved the insider look at the world of k-pop and fame via Robbie and his group.
If you love YA k-pop stories like I do, you should check this one out!