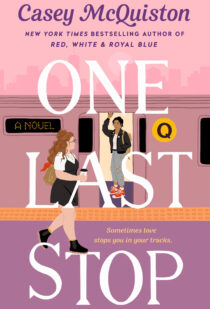 One Last Stop
By Casey McQuiston Source
Purchased
Published by
St. Martin's Griffin
on June 1, 2021
Rating:

For cynical twenty-three-year-old August, moving to New York City is supposed to prove her right: that things like magic and cinematic love stories don't exist, and the only smart way to go through life is alone. She can't imagine how waiting tables at a 24-hour pancake diner and moving in with too many weird roommates could possibly change that. And there's certainly no chance of her subway commute being anything more than a daily trudge through boredom and electrical failures.

But then, there's this gorgeous girl on the train.

Jane. Dazzling, charming, mysterious, impossible Jane. Jane with her rough edges and swoopy hair and soft smile, showing up in a leather jacket to save August's day when she needed it most. August's subway crush becomes the best part of her day, but pretty soon, she discovers there's one big problem: Jane doesn't just look like an old school punk rocker. She's literally displaced in time from the 1970s, and August is going to have to use everything she tried to leave in her own past to help her. Maybe it's time to start believing in some things, after all.

Casey McQuiston's One Last Stop is a magical, sexy, big-hearted romance where the impossible becomes possible as August does everything in her power to save the girl lost in time.
I finally read this! It was on my radar and then my TBR for so long, but I kept putting off reading it. It was a recent book club pick, so I'm glad I was sort of forced to finally read it, because I know so many people who loved it and there was a lot of hype!
While I didn't love this book, I enjoyed it overall, although since I was racing to finish it in time for my book club meeting, I think that might have impacted my perception of the story. My overall reaction was that there was just so much going on in the story that I found it a little overwhelming and difficult to follow at times, but that could have been because I read it in such a short period of time.
My favourite aspect of the book was definitely Jane's being stuck in time. I thought it was such a unique and fun element, especially in a romance novel, and it made Jane and August's relationship fun to read about as it developed. I also liked the found family aspect of the story and the bonds that August makes with her new roommates.
But for all of the stuff that happens in this book, I found myself not all that interested at times. Also, View Spoiler » the side story about saving the restaurant, and the way August's uncle's disappearance connected with everything, was just too much for me. « Hide Spoiler I just think there was too much happening in this story and the focus was kind of all over the place, and it might have been a stronger book for me if there were fewer side stories.
But most people I know have totally adored this book, so if you're a romance fan and you haven't read this one yet, you probably should!