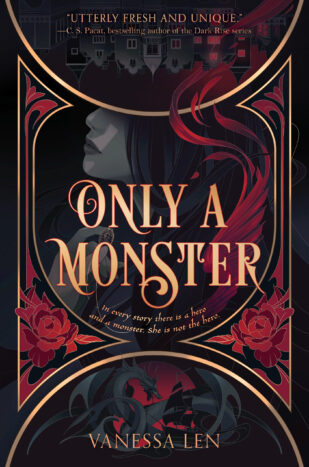 Only A Monster
By Vanessa Len Series:
Monsters #1
Source
Received from the publisher
Published by
HarperTeen
on February 22, 2022
Received from the publisher in exchange for an honest review. This does not affect my opinion of the book or the content of my review.
Rating:

It should have been the perfect summer. Sent to stay with her late mother's eccentric family in London, sixteen-year-old Joan is determined to enjoy herself. She loves her nerdy job at the historic Holland House, and when her super cute co-worker Nick asks her on a date, it feels like everything is falling into place.

But she soon learns the truth. Her family aren't just eccentric: they're monsters, with terrifying, hidden powers. And Nick isn't just a cute boy: he's a legendary monster slayer, who will do anything to bring them down.

As she battles Nick, Joan is forced to work with the beautiful and ruthless Aaron Oliver, heir to a monster family that hates her own. She'll have to embrace her own monstrousness if she is to save herself, and her family. Because in this story . . .

. . . she is not the hero.
This was such a unique, inventive story! It kicked off with a dramatic, dangerous encounter and Joan's life was completely upended. She didn't know anything about her monster side, and had to suddenly contend with death, mayhem, learning monsters are real and she might be one, and Nick, the cute boy she had been crushing on, was actually a legendary monster slayer. Whew!
I loved Joan's journey and the world that the characters inhabited. The story took some turns that took me by surprise View Spoiler » like the time travel! I didn't expect that and it was so fun! And then Joan and her group had to carry out a heist, which I also loved! « Hide Spoiler And the more I learned about Nick and Aaron, the more intrigued I became. What I really loved about this was its exploration of what being a monster meant, and whether Joan saw herself and her family (and other monsters) as villains – or if things weren't that black and white.
I was super into this, and by the end I couldn't wait for the sequel to come out! If you're looking for a YA fantasy, check this out!