(And the reason why my current reads have been put on hold)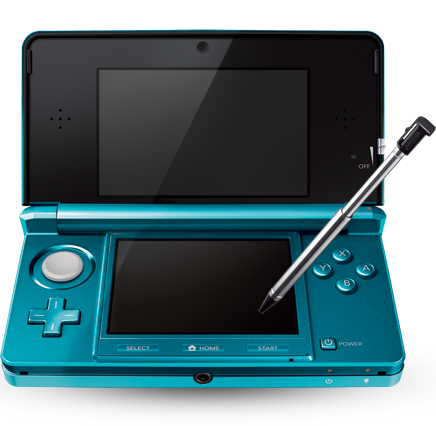 I thought I'd be right back to my e-books after getting married, but a new distraction has popped up: my Nintendo 3DS. Glasses-free 3D!
I am currently hyperventilating over the new Super Mario Land 3D, coming out next month (and yes, I've pre-ordered). That and my drive to finally conquer The Legend of Zelda: Ocarina of Time has left the two books I've been in the middle of reading on the back burner (not to mention my huge backlog of DSi games I'm working through…).
And while we're on the subject of gadgets, I have also been hyperventilating over this. I have been e-reading on the first-generation Kobo, and since then, a number of newer, faster, stronger, etc. versions have come out. While I was pining away for the Kobo E-reader Touch, my sister alerted me to the existence of the Vox, and my world went sideways. Now I don't know what I want! All I know is,  there are no real problems to speak of with my old school Kobo original (although there are some glitches related to the organization of my library and, if you know me – and if you're reading this, you probably do – you know that is the sort of thing that drives me bananas), and yet I am drawn to the newer versions (wi-fi! touch screen! new accessories to carry them all in!).
So. On the one hand, I have the best, newest, shiniest version of my favourite gaming device. On the other hand,  I've been patiently saving up my meager funds for an upgraded e-reader while continuing to use a no-longer-manufactured gadget that has been improved upon numerous times. Well, with Christmas on the horizon (yay!), I know what I'll be suggesting to Mr. Pingwing as a gift!!
In all seriousness, I know that I am very fortunate to have what I do, and to want for anything more is selfish and greedy. But a girl can dream, can't she?
Are any of you e-readers and/or video gamers? Do you struggle like I do to balance the two competing interests?