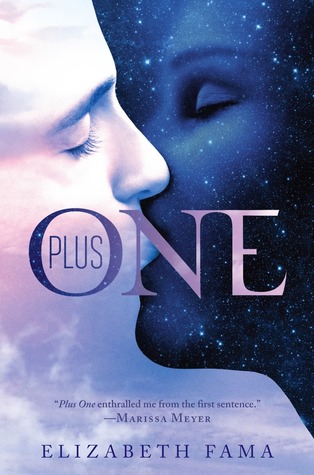 Plus One
By Elizabeth Fama Source
Received from the publisher
Published by
Farrar Straus Giroux
on April 8, 2014
Received from the publisher in exchange for an honest review. This does not affect my opinion of the book or the content of my review.
Rating:

Cover image and summary from Goodreads:

Divided by day and night and on the run from authorities, star-crossed young lovers unearth a sinister conspiracy in this compelling romantic thriller.

Seventeen-year-old Soleil Le Coeur is a Smudge—a night dweller prohibited by law from going out during the day. When she fakes an injury in order to get access to and kidnap her newborn niece—a day dweller, or Ray—she sets in motion a fast-paced adventure that will bring her into conflict with the powerful lawmakers who order her world, and draw her together with the boy she was destined to fall in love with, but who is also a Ray.

Set in a vivid alternate reality and peopled with complex, deeply human characters on both sides of the day-night divide, Plus One is a brilliantly imagined drama of individual liberty and civil rights, and a fast-paced romantic adventure story.
For a long time, I wanted to read this book purely based on the gorgeous cover! Once I actually took notice of the summary, I was super intrigued. A world where the population is divided up between day and night? Tell me more!
Truthfully, it took me a while to get into this. It wasn't until I was close to halfway through that I felt myself really getting into the book and making time to read it as often as I could.
That said, I liked this book. Reading about the day/night separation and how it came about was really interesting, and I found myself wanting to know more about 'Rays' and 'Smudges'. I loved the concept.
It took me some time to warm up to Sol, but in the end I loved her determination and bravery. She was willing to risk everything for someone she loved. And let's not forget D'Arcy – I liked him right away. He was Sol's opposite in so many ways. And there were some major swoons once the romance part of the story began!
While I liked the concept and the characters, I think the plot dragged this book down a bit for me. There were times where the pacing just felt off – it felt too slow, like nothing was really happening but given the urgency of Sol's situation, I felt that things should have been happening.
Overall, this was a good book. The pacing was problematic for me, but the intriguing concept and characters of Sol and D'Arcy made up for that, so I say you should give this one a try!